How Manassas Park is 'flipping the classroom' with learning tablets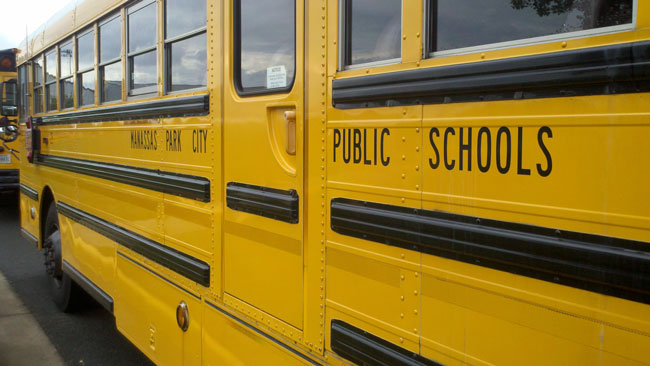 eBackpack learning modeled after North Carolina school
The eBackpack initiative is part of Manassas Park Public Schools Connects, a initiative where students will be provided with a personal digital device. In time, every student in the school system will be provided with a tablet.
The full roll out of this program is scheduled began in February at Manassas Park High School with the freshman, sophomore, and junior classes.  Over the course of the next few years, the program will be rolled out to the other three schools in the district. 
Stage one of the e-backpack initiative is nearing completion which has teachers and students reflecting on the different changes in their classrooms.
A pilot was conducted this past fall with freshman and sophomores in Pre-AP and ESOL level 1 classes.  Pilot teachers Mrs. McCracken, English; Mr. Bouchillon, Science; Ms. Beauregard; History; and Ms. Meitzler; ESOL have all had the opportunity to experiment with a 1:1 learning environment in their classrooms this year, in which they used Dell Venue tablets.
With this, came a chance to implement new learning strategies and take advantage of the advanced technology while students enjoy being able to use their own tablets and work more independently.
MPCS is modeling the e-backpack initiative at MPHS after the Mooresville Independent School District in North Carolina.
"Mooresville is using MacBooks, which is a little bit different, but they've been doing this for eight years and when you walk into one of their classrooms, it's one of the most amazing things," said Instructional Technology Specialist Chris Konig. "Students are working on their own devices and everyone is kind of working on their own thing; students are engaged."
Konig hopes that the same experience will come for us as well.
The tablets offer more of an opportunity to "flip" classes and work with lectures to enhance learning.
"This program will change the entire fabric of the school in terms of teaching and learning. It will promote student independence, critical thinking and creativity and give all students the opportunity to prepare for a 21st century world," said Manassas Park High School Principal Dr. Deborah Bergeron. "Flipping the classroom is a really huge shift right now. When classrooms are flipped and students can watch lessons at home, then class time can be spent practicing and working on more exciting projects rather than listening to lectures and things like that."
"There's a term in teaching called 'being the sage on the stage', the person who is all knowledgeable. I think that teachers are going to slowly move to 'the guide on the side', said Konig. They'll still be there to direct student learning, but students will be completely learning on their own."
MPCS is using Dell Venue 11 Pro tablets, which have several features that cannot be found on other tablets. It can switch between desktop, laptop, and tablet modes while also remaining fully functional. The tablet can stream HD videos, produce presentations, and provides high resolution screen viewing.
"One of the nice things is that they are Windows 8 tablets. They're pretty much full computers. So, anything you can do on a regular computer, currently, you can do it on these tablets, which is very nice." said Konig.
Teachers also said students using the laptops no longer ask for extra handouts of worksheets or assignment because they are all posted to the teacher websites where they can easily be accessed by students.
Nafeesa Lodi writes for the MPHS Script student newspaper and contributed this post to Manassas Local.
Post Your Email Notices, Press Releases, Event Fliers, and Photos
The FREE email packed with local news
The FREE email packed with local news
The FREE email packed with local news
Sign Up