How Prince William schools stack up, on average, for teacher pay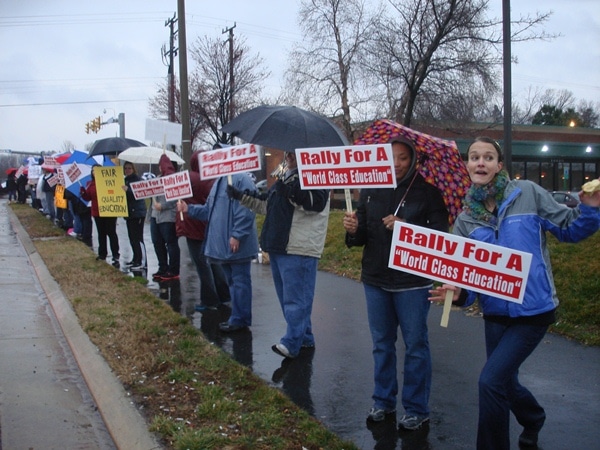 Neighboring counties pay entry-level teachers more
As the Prince William County School Board gears up for another budget cycle, it is timelier than ever to look closely at an important topic in local education – the current state of teacher pay in the county.
The average annual teacher salary, according to Jim Livingston, the Prince William Education Association president is $60,408 – a figure he pulled from a 2014 Washington Area Boards of Education  (WABE) report.  
Phil Kavits, spokesman for Prince William County Public Schools, stated that the average annual teacher salary in the county is a bit higher than Livingston's figure at $61,525.
These averages are worth noting when considering a quick drive to the surrounding area school divisions can greatly alter the average salary that a public school teacher receives.
"The only school division that is lower in average teacher salary in the area is Manassas Park. The other [counties] are at least $2,800 to $3,000 more than us. For example, if you cross over to Fairfax County…that's a $7,000 pay increase based on the average," said Livingston of the county's low pay-average.
Kavits stated teachers in nearby Fairfax County average $66,782 per year, and a Loudoun County teacher receives an average of $63,013 per year.
"The reasons that the salaries remain low, particularly at the entry level – that's where we have the greatest difficulty – is quite frankly that our neighbor [counties] around us have simply determined that it's in their best interest to try and attract the very best [teachers] that they can. And frankly, we've simply just not kept pace…" Livingston said.
The county's School Board is facing a $20 million budget deficit. On Feb 4, it will meet to discuss some possible ways to fix the problem by proposing new cuts to the division's billion-dollar budget. The cuts come as county leaders propose a lower tax increase of 1.3% than the original planned 4% hike in property taxes. 
Things like transportation for specialty programs at middle and high schools, and full day kindergarten in non-title one schools are all things being eyed by the School Board as items to slash from the budget.
Teacher pay raises, however, are not, according to School Board Chairman, At-large Milton C. Johns.
Editor's note: This is the first in an ongoing series that examines public school teacher pay in Prince William County.
Post Your Email Notices, Press Releases, Event Fliers, and Photos
The FREE email packed with local news
The FREE email packed with local news
The FREE email packed with local news
Sign Up