Woodbridge Route 1 power line plan buried? Supervisors to vote again on controversial issue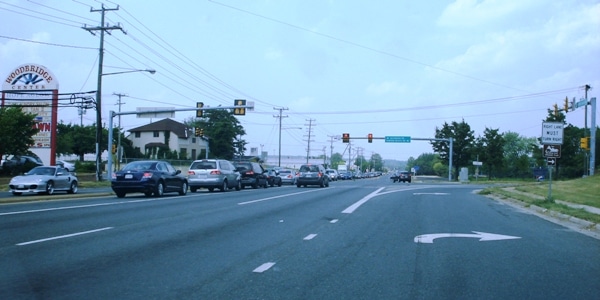 Measure would move $12 million away from project, killing it
Spend $12 million to bury power lines in Woodbridge? Not so fast.
Prince Willaim Count officials in late 2013 approved funds to bury power lines lines along Route 1 in Woodbridge, between Mary's Way and the Occoquan River. The lines would be placed underground in conjunction with an effort to widen that same portion of the road from four to six lanes.
The $12 million was taken from two pots of surplus money in county government coffers.  The big idea: make the gateway to the heavily populated, traditionally more blue collar eastern section of Prince William County more aesthetically appealing to drivers entering it from Northern Virginia juggernaut Fairfax County.
Board of Supervisors Chairman Corey Stewart, At-large, in October praised the effort. "No other jurisdiction on the east coast from Maine to Florida has put more money into the revitalization of Route 1," said Stewart.
On Jan. 6, more than a year after deciding to bury the power lines, The Board of Supervisors will once again vote to stay the course and put the lines underground or to reallocate funds elsewhere.
Leading the charge is Gainesville District Supervisor Peter Candland, who said the Board needs to "reprioritize its spending plans to accommodate revenue constraints, resulting from the current lagging local economy," according to a resolution in Tuesday's Board of Supervisors meeting agenda. It's the latest move from a Republican who often says local government spends too much, and enacts taxing plans that are too burdensome for the county's middle class residents.
"The economy doesn't listen to our five-year plan. The people sitting around doing their budgets, their paychecks don't listen to our five year plan, and we're still seeing this economy struggle," Candland said.
Candland has continually criticized his Board's vote in late 2013 to bury the lines.  The Supervisor's Gainesville District in western Prince William has residential and retail subdivisions that are only a fraction as old as what sits in Woodbridge. Most if not all power lines are buried in Gainesville.
The ball is already rolling on the plan to bury the lines as engineers have designed working plans to get the job done. The development of those plans also stalled the effort to widen Route 1.
Woodbridge District Supervisor Frank Principi says Candland has rehashed this issue too many times, and he equates the debate over the burial of the power lines to Congressional Republicans' effort to repeal Obamacare.
"We've already spent $2 million in engineering funds on the project. If we turn back, that would be a stupid policy and budgeting decision, and it would require significant delays in Route 1 widening project," said Principi. "We've already put off widening Route 1 for a year to accommodate the design of the underground power lines."
Corey Stewart still supports burying the lines and suspects Candland won't have the votes he needs to reverse course.
"We've spent 25 years revitalizing Route 1. If we don't bury them, the power lines will be there forever, and underground forever if we do bury them. To not bury them is being pennywise and pound foolish."
Coles District Supervisor Marty Nohe agrees though he first voted against the project because he didn't approve of the funding sources.
"Now that's it's underway, we can't stop it now," said Nohe.
Post Your Email Notices, Press Releases, Event Fliers, and Photos
The FREE email packed with local news
The FREE email packed with local news
The FREE email packed with local news
Sign Up