Moser: The Community Maintenance That Might Be Missed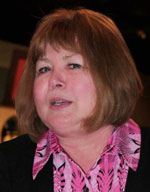 I haven't left the area and I think you already miss me! You may not know you miss me unless you ride down Lindendale Road and notice the grass is tall, the sidewalks aren't edged, there's litter and leaves in the gutter on the wooded block adjacent to Dale City Christian Church. We've been maintaining that block (and occasionally another wooded lot across the street) since 2006. We have a sign there for an Adopt a Spot for the Lindendale Community, but typically an Adopt a Spot is just a litter pick up, not the kind of community maintenance we do.
There's a perennial flower bed there. We planted it with Shasta Daisies, Coreopsis and Purple Coneflower. The deer ate all the coneflower, but the Daisies, the Coreopsis and a Datura Lily lend some bright color to the landscape all summer long. The flowers are ready to be cut down and mulched soon and the bed is in need of some weeding.
For many years, in the very hot month of August, Bill and I edged all the sidewalks in front of the power lines from the other side of Dale City Christian Church to Enterprise Elementary School. We also edged nearby lots, all to make the neighborhood look great before the kids start back to school and show that community care and maintenance makes a difference.
On our own street corner at Lindendale and Lynhurst, we did the same thing. Our neighbors saw us there year after year, edging, trimming, sweeping and using a weed whacker in curbs and gutters, and along fences. We sprayed weed killer into sidewalk cracks to keep weeds from returning.
Also since 2006, Bill and I have planted annuals at the entrance to Lindendale. We watered, weeded and fertilized them, cutting them down in the fall, planting something different the following spring. We had a second Adopt a Spot there, from the corner of Lindendale and Dale, down to Beville Middle School.
The roses planted at the commuter lot are looking kind of shabby. Some need replaced (thanks in part to careless commuters and Comcast employees who parked poorly, Farmer's Market vendors who dropped their crates on them and rats who tunnel mercilessly, destroying the roots.) Weeds and crabgrass are already taking over and I fear those roses, the source of so much pride to a small group of volunteers a few years ago, will soon return to the shabby condition that inspired our action now that Bill, Linda and I are no longer available to care for them.
Some ambitious, community-minded group, scout troop or service club could step up here for the commuter lot. All the rest of our locations are actually owned by someone. Prince William County Schools, Board of County Supervisors, and Hylton Corporation all own parts of the properties we cared for. They will mow, but not weekly and they don't edge and sweep the streets and walks.
What I've described are the regular, week after week, year after year projects we've maintained. Today's column does not include the monthly, quarterly, annual or one-time projects that will cease.
I haven't finished telling you about the organizations for whom I volunteer and who need someone to replace me. So, as long as Uriah Kiser allows me to write, I'll keep telling you what you've been missing!
Post Your Email Notices, Press Releases, Event Fliers, and Photos
Subscribe to the weekday Breakfast Links email FREE!
Get
updates straight to your inbox.