Aquia Harbour Rescue Squad Station 9 Building, Land to be Conveyed to Stafford County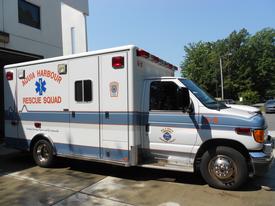 NORTH STAFFORD, Va. — The Aquia Volunteer Rescue Squad building and the land it sits on will soon belong to Stafford County.
A deal brokered between the gated community's Aquia Harbour Property Owners Association and local government officials will lead to the 22-year-old building, known as Station 9, being upgraded within the next 10 years, according to county documents. Volunteers and career fire fighters from Stafford County will continue to use the building for fire and rescue operations.
County officials say this is one of many fire and rescue stations owned and operated by the county. Most of the volunteer-related expenses, such as continued training, will continue to be paid for by the volunteers themselves.
The fire station is staffed by volunteers between 18 to 25 percent of the time, primarily on nights and weekends, and the rest of the time by a paid career crew made up of county firefighters. There are no plans to add additional staff at this time and, though the contract stipulates the building will be improved, county officials did not have information outlining what those improvements would be.
Aquia Harbour resident Mike Shepherd said the building sits on coveted land inside the neighborhood next to the main, guarded entrance to the subdivision. The roadway in and out of the neighborhood, Washington Drive, may need to be widened at some time in the future, said Shepherd, and that may be harder to do now that the county owns the building.
"Why should we give up that spot right there? It's on the main road and it's adjacent to the guard shack where people come in and out of," said Shepherd.
According to the agreement between the county and property owners association, the building and its land will be conveyed back to the association if fire and rescue operations ever cease at the site, and the county cannot amend the current lease of the building to the Aquia Harbour Volunteer Rescue Squad without the approval of the property owners association.
A check of the property under county records shows the land and building value as zero as property taxes are not levied on the station.
This is not the first fire station in Stafford County to have its ownership conveyed to the county government. Potomac Hills Station 10 has also been conveyed to the county.
The county owns outright Stafford Station 2, Berea Station 12 in south Stafford, and Station 14 on Shelton Shop Road in North Stafford.
Residents inside Aquia Habour also pay to fund their own state-accredited police force.
KJ Mushung contributed to this report.
Post Your Email Notices, Press Releases, Event Fliers, and Photos
Subscribe to the weekday Breakfast Links email FREE!
Get
updates straight to your inbox.