Moser: New Blood Needed in Organizations that Benefit Neighborhood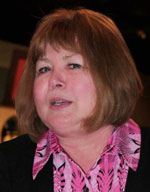 I once read a book by Seth Godin, titled "Linchpin-Are you Indispensable?" It was an interesting book that expounded on the idea of making oneself indispensable in the workplace and therefor, invaluable to the company. I think Godin was intent on teaching us self-worth and creating our own space in the world, but I thought that concept "indispensable" was not a great idea. After all, how do you take vacations if you're indispensable? What if you move? What happens when you die?
I've belonged to many great groups and organizations and I always try to get folks to plan ahead, get young, quick minds involved and folks who can physically meet the challenges of our obligations. It's important that we mentor and encourage the next generation to become involved in their community.
I wish I'd worked harder on that challenge to get new blood into a group, show them what we do and ask them how they could make it better. It would certainly make the contemplated move from Dale City to Fort Knox easier to bear if I knew there were folks ready to step in and take over some of the responsibilities.
Some of my organizations were self-generated, like Neabsco Action Alliance and the Lindendale Community Group. NAA does not have many people in the core group, but a lot of big ideas for the Neabsco District. We hosted cleanups, partnered with many other groups on a variety of activities, did publicity and promotions, networked with other civic associations, did courtesy reviews, and shared information across multiple social media platforms.
Bill, my husband, and I designed the web page and kept it and the event calendar updated. We hosted county staff to instruct us in topics like the budget, economic development, land use, transportation and more. I worked with Bill Golden on a video series that features good people with a story to tell in Prince William County.
My Lindendale group is 75 families on an email chain with a virtual neighborhood watch. We shared county news, crime prevention information, emergency awareness information and the occasional birth, death, illness or a community need like a lost dog or someone needing their sidewalk shoveled.
The Neighborhood Leaders Group (NLG) evolved to address issues in communities, and to provide input to county staff with ideas and legislative possibilities for improvements. Prince William County hosts NLG meetings on a monthly basis as well as a very popular neighborhood conference each year. We work very closely with Neighborhood Services Division planning neighborhood cleanups, sharing resources and fighting deterioration in our communities. Designed originally for non-HOA neighborhoods, NLG now includes HOA communities.
In attempting to keep this column from becoming the length of a novel, I'll stop here and continue with other groups on another day. Please let me know if you need more information or are willing to become a leader in these organizations. You can email me: moserconnie@hotmail.com or find me on Facebook.
Post Your Email Notices, Press Releases, Event Fliers, and Photos
Subscribe to the weekday Breakfast Links email FREE!
Get
updates straight to your inbox.