Under Review: Are Politics at Play When it Comes to one of the Region's Largest Transportation Projects?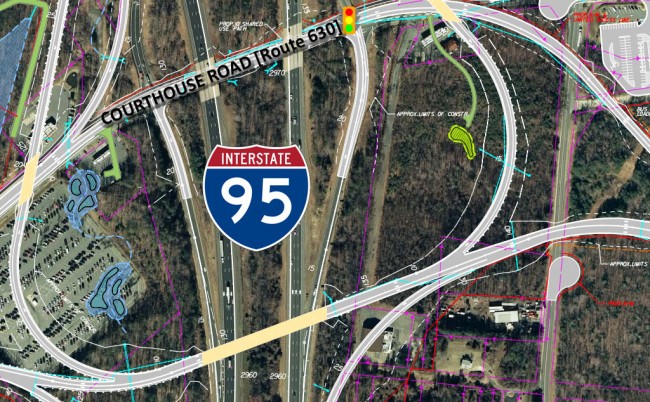 STAFFORD, Va. — Cord Sterling is no longer on Virginia's Commonwealth Transportation Board where he oversaw funding for many road projects in and around Fredericksburg.
But that doesn't mean the Stafford County Supervisor no longer thinks about transportation. In fact, the Republican is fuming mad that the once fully-funded, $184.4 million project that he championed – building a new interchange at Route 630 [Courthouse Road] in the heart of Stafford County – is now short $5 million.
House Bill 2, new legislation signed into law this year, requires highway projects to be reviewed by a newly formed committee that will ultimately recommend to the overseeing Commonwealth Transportation Board [CTB] which projects should move forward to the construction phase. The $5 million has been moved into a special trust fund and could be restored by the CTB after the committee's recommendations are made in October.
The Courthouse Road interchange project will improve a now antiquated diamond interchange and carries drivers from Interstate 95 onto 2-lane Courthouse Road and to nearby U.S. 1.
"They cut funding in order to force it through this process of which they control," said Cord Sterling, of the Commonwealth Transportation Board.
This is one of more than 30 projects that have been placed under review since Gov. Terry McAuliffe took office in January.
A game changing project
A public hearing for the new interchange was held back in 2012, and the project, which has been called a game changer for Stafford County, is now in its right-of-way-acquisition phase. Transportation officials are in negotiations with property owners to take needed land for the interchange.
"It is a dramatic change is the center of the county, and it is what was needed to handle the projected traffic growth for the county," said Virginia Department of Transportation spokeswoman Kelly Hannon.
Compared to what the interchange looks like today, dramatic might be an understatement. The new interchange will separate the lanes of Courthouse Road at the interchange, converting it into a loop road for drivers exiting and entering I-95, as well as using nearby Austin Ridge Drive.
New commuter lots will be built on Austin Ridge Drive and Courthouse Road, joining a lot that already exists on Courthouse Road near the current interchange. And, Courthouse Road east of I-95 will be turned into a cul-de-sac, and drivers will use a new Hospital Center Boulevard as the main access road to U.S. 1 to central Stafford.
The improved interchange is expected to open up the area around Stafford's iconic courthouse, the closest thing the community has to a walkable downtown, with the exception of Falmouth just outside Fredericksburg.
The new interchange was also designed with the 95 Express Lanes in mind. Though the current effort to extend the high occupancy / toll lanes south from Prince William County ends north of Courthouse Road at Route 610 in North Stafford, Hannon says the express lanes could one day reach Courthouse Road.
Politics at play?  
The Courthouse Road interchange sits just outside Delegate Michael Futrell's 2nd House District. The Democrat represents voters in North Stafford and eastern Prince William County, and the interchange is not in Futrell's district.
Cord Sterling, who says transportation infrastructure should be viewed as a network that serves all, has demanded that his Delegate in Richmond, Micheal Futrell, to do more to get the project back on track.
"Is it [the lack of funding] frustrating? Naturally it is, but I'm confident that when it goes through the review process it will come back fully funded," said Futrell.
While he recognizes the interchange would serve everyone in Stafford, Futrell said Sterling should talk with Speaker of the House Bill Howell who oversees the district in which the interchange sits. But Howell has been a vocal opponent of expanding Medicaid in the state, something Governor McAuliffe has vowed to do since before taking office.
Sterling says that his pet project in Howell's district has now become a political pawn.
"The cutting of these funds when looking at other projects, it looks a little suspicious given what is going on with Medicaid and then the conversation turned to [Route] 630. It is the speaker's district, but it will also serve Futrell's district," said Sterling.
Emails urge support of project
In a series of emails sent to Futrell in June, Sterling urged the freshman Delegate to speak out in support of restoring full funding the interchange. He later goes on to chastise Futrell for what he says has been a lack of dialogue between the Delegate and officials in Stafford County and at the Commonwealth Transportation Board in Richmond. "I am no longer requesting your assistance. I am telling you," penned Sterling.
"I have a very big district. I can't be every place all the time… we do our best to be everywhere we can be and we accommodate every meeting we can," said Futrell.
Additionally, he doesn't see politics at work here.
"You've got to realize there are 30 to 50 projects that had this happen to them, so we're talking about up to $500 million, so this wasn't anything that was specifically targeted at the interchange. This just happened to be one of the affected projects," said Futrell.
Sterling says he will invite Futrell to a meeting of the Stafford County Board of Supervisors in early September in hopes to speak with him. Futrell says he will speak with members of the Board to hear their concerns.
Post Your Email Notices, Press Releases, Event Fliers, and Photos
Subscribe to the weekday Breakfast Links email FREE!
Get
updates straight to your inbox.