Prince William Pushes Feds Again for Info on Arrested Illegal Immigrants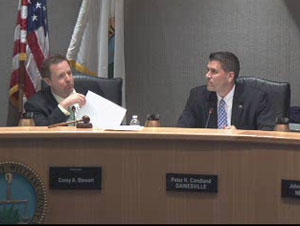 WOODBRIDGE, Va. — Elected officials in Prince William decided to take another crack at getting information from the Federal Government.
Officials want to know the status of illegal immigrants who were arrested in the county and processed through Immigrations and Customs Enforcement (ICE) through a special program called 287 (g). It's a partnership between county law enforcement and ICE customs officials.
Board of Supervisors Chairman Corey Stewart, as he has done in the past with the weight of the county government behind him, will once again filing a freedom of information act (FOIA) request to ICE looking for information on the whereabouts of those arrested and then turned over to ICE. Stewart has threatened to sue the U.S. Government if he doesn't get what he wants.
"We fully expect them to refuse because they've stonewalled us in the past," said Stewart.
The Board of County Supervisors passed a resolution to only file another FOIA. A lawsuit could be filed later depending upon the outcome of the federal response, and the Board must vote to approve any such legal action, said Stewart.
Neabsco District Supervisor John Jenkins voted against filing the FOIA, and Supervisors Mike May and Maureen Caddigan, of the Occoquan and Potomac districts, respectively, were absent from the meeting.
Woodbridge Supervisor Frank Principi said he was disturbed that county police Chief Stephan Husdon was not present for the meeting to discuss a topic that clearly has to do with the police department. He also likened talk of filing a lawsuit to that of Republicans suing President Barack Obama for alleged overuse of his executive order power.
"Let's just FOIA the information like were supposed to, wait for a response, and let's deal with it when we get it," said Principi.
"Anybody can make that FOIA," added Jenkins, opposing a lawsuit. "…we should be minimizing the cost to our county government to do what the federal government is responsible for doing."
Last year federal officials decided to leave in place their 287 (g) program where specially trained officers at the Prince William jail screen inmates for their legal presence in the U.S. If found to be here illegally, inmates are then turned over to federal authorities. Stewart last year praised ICE following their decision to leave the program in tact.
Post Your Email Notices, Press Releases, Event Fliers, and Photos
The FREE email packed with local news
The FREE email packed with local news
The FREE email packed with local news
Sign Up