Downtown Hopes Pinned on Tenant-Seeking City Center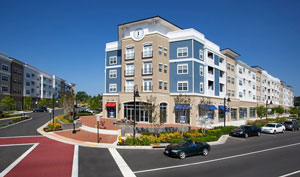 MANASSAS PARK, Va. — The project that leaders hope one day will bring people and downtown development to Manassas Park will get a second look Thursday.
Known as City Center, construction of the mixed-use development located across from the Manassas Park City Hall and a Virginia Railway Express station began in 2006. It has 291 apartments that have renters in nearly every one, says Manassas Park Planning and Zoning Director Vanessa Watson.
But tenants for the street-level retail shops have been slower to come, and it's that kind of development that is wanted – and needed – to create a walk-able downtown.
"In order for this project to be complete the retail spaces have to be filled," said Watson. "This will really help the city spur more growth and development in creating a downtown."
Of the 45,000 square feet of retail space, a bank is the only tenant to occupy some of the space. The remainder is open and can be customized to fit a retailer's needs, said  Watson.
Restaurants are also envisioned for City Center, and Watson said the center's management company, True North Management Group, is still trying to bring such establishments to the center.
Rapid development on the nearby Liberia Avenue corridor in neighboring Manassas has drawn not only the attention of several retailers and restaurants that have set up shop there, but also of area residents who might easily overlook City Center.
"Even though this project doesn't compete with Liberia, people look at it and compare them because they are so close, but it's not Liberia," said Watson.
City Center's developer, Weber Rector Commercial Real Estate and the Prince William Chamber of Commerce will hold an event beginning at 5 p.m. Thursday in hopes more people will get familiar with the development.
The "Get 2 Know City Center at Manassas Park" event is billed as an opportunity to tour the open retail space, that also could be used for offices, and learn more about Manassas Park's broader goal of promoting economic development in the area.
"The City of Manassas Park is in a much different place than it was four years ago when City Center was first built," stated Coleman Rector, Co-Owner and Broker at Weber Rector Commercial Real Estate Services in a press release. "In the next twenty-four months, residential developments, traffic counts, and VRE rider volume are all projected to see significant increases.
Officials say new developments nearby in Prince William County as well as Manassas Park will only bring more people to the area. A viable City Center could help Manassas Park attract new shoppers to the city, added Watson.
Those who plan to attend the Chamber of Commerce event are asked to call the Chamber office at 703-368-6600 to RSVP.
Post Your Email Notices, Press Releases, Event Fliers, and Photos
Subscribe to the weekday Breakfast Links email FREE!
Get
updates straight to your inbox.
Readers also enjoyed...
A word from our sponsors...