Kaine Pushes for More Funding for Career Training for Students Bypassing Traditional College Path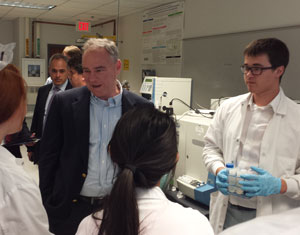 MANASSAS, Va. — Megan Devine says she was never one of those "rich kids" who didn't have to worry about paying for college.
The 28-year-old is a research assistant at George Mason University put herself through school in her home state of Illinois, and did well by finishing her required undergraduate coursework by the end of her junior year. Though she finished work for her undergraduate degree during her junior year she still had to take elective classes her senior year.
"I was told, specifically, I was not allowed to graduate because my school needed my tuition money," said Devine.
She's now working doing research at George Mason University for the Department of Defense and living in Northern Virginia with her husband. But she could have moved from college faster, she says, if she had access to advanced placement (AP) courses when she was still in high school.
The courses could have given her dual enrollment, allowing her to get college credit for work completed in high school.
Virginia Sen. Timothy M. Kaine is pushing for more funding that would allow more students to take college-level courses sooner by pushing forward a new bill called Educating Tomorrow's Workforce Act. It would allow more government funding from the Perkins Career and Educational Act of 2006 to be used for job training, and to create more governor's career and technical academies.
Now, says Kaine, Perkins money can only be used purchase equipment.
If his bill is passed, more teachers would be trained with the money, and a high-quality curriculum for career education would be developed to be used as a model for other schools.
"What I found when I was governor is, once you put [the education model] out there, people want to achieve the high quality status," said Kaine.
The Senator came to George Mason University's Prince William Campus on Wednesday to discuss his bill. He was joined by several students and professionals in the technical and education fields.
Finding talented workers is critical for BAE Systems, a global engineering firm that specializes in defense and cyber intelligence. The firm has a large presence throughout Virginia.
BAE Director of Space Products and Processing Ian A. McDonald said he's seen quality talent from outside the non-traditional classroom.
"There are a lot of kids out there that shouldn't go onto a four year college, shouldn't take on that debt, but should be getting that training…they have an aptitude that's different," McDonald told Kaine.
Many of his employees have graduated from technical schools or picked up necessary skills while on the job.
Kaine expects little pushback from traditional four-year schools and graduate programs for his bill.
"For the past 25 years we've had a model to push everyone to go to traditional four-year schools but now they don't have the buildings to house everyone, so it's best to encourage to go variety of programs," said Kaine.
The Senator added he was able to complete his undergraduate degree in just three years instead of four. Not having to take a 4th year of classes was a tremendous financial help for his parents, he added.
Post Your Email Notices, Press Releases, Event Fliers, and Photos
Subscribe to the weekday Breakfast Links email FREE!
Get
updates straight to your inbox.