Supplement to Improve Body's Microbiome In Development at Prince William's New Science Accelerator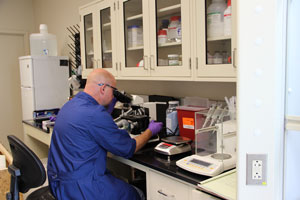 PRINCE WILLIAM COUNTY, Va. — Work is underway at a new science center in Prince William County to develop a new supplement to help us produce more of the "good" bacteria that live on our bodies.
ISOThrive CEO Jack Oswald says a new pill that can be easily swallowed or even placed into a cup of coffee is on its way to store shelves. The work on developing the supplement is being done at a new Science Accelerator at Prince William County's Innovation Technology Park, and under a collaborative partnership with George Mason University.
"Today we have a crisis at the microbiome. It's not working at optimum functionality, as a result we're not as healthy as we need to be or could be," said Oswald.
The microbiome is made of bacterial cells that share our body. There are 10 times as many bacterial cells than human cells on our bodies, and scientists are treating the microbiome as a newly discovered organ of the body.
Oswald says the foods we eat can have a poor effect on the "good" bacteria we share our bodies with.
"Traditionally, the human diet used to have whole foods, raw foods, we'd cook at home. Today we eat a lot of processed food, refined food, while on the go," said Oswald.
The supplements would "fill the gap" in our diets and bring our microbiomes back to "optimum functionality," added Oswald. A collaborative partnership with George Mason University will allow ISOThrive to test the results of their product by looking at DNA samples of users before and after they take it to gauge its effect.
"The collaboration will allow us to bring products to market several months earlier than we thought we would be able to do," said Oswald.
The life-sciences start-up company is the first tenant in Prince William County's new Science Accelerator in the Innovation Park behind the Northern Virginia headquarters of the FBI.
The 9,125 square foot center is home to nine newly built wet laboratory spaces. Each space is individually secured, has emergency power outlets for critical storage equipment, and they're configured with a front office and access to two conference rooms and a common kitchen/office, receiving area and parking spaces.
The start-up incubator is a public – private partnership with local government, academia, and the region's business community.
"This is yet another testimony to Prince William County's commitment to developing the life sciences industry in our county," said Prince William County Board of Supervisors Chairman Corey Stewart in a press release.
ISOThrive joins American Type Culture Collection, Corning Life Sciences, Virginia Forensics Lab, the Mason/NIH Level-3 Biomedical Research Laboratory, and Mason's Center for Applied Proteomics and Molecular Medicine which are all already located at Innovation Park.
Post Your Email Notices, Press Releases, Event Fliers, and Photos
Subscribe to the weekday Breakfast Links email FREE!
Get
updates straight to your inbox.