Bring Your Trunk Full of Junk to Dale City Commuter Lot Behind Dairy Queen June 14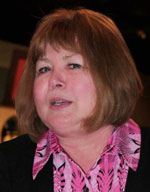 We are storing stuff in closets and basements, in attics and sheds and garages. We store stuff in the trunk of our car and we build shelves and buy containers to store more stuff. Our cabinets are full of stuff. There's stuff under our beds- Hell, we buy storage beds!
This fact sheet from SSA, (Self-Storage Association) states America has 2.3 billion square feet (as of Q4-2013) or an area well more than 3 times the size of Manhattan for self-storage space.
Here's a great infographic from census.gov showing our ever-increasing use and accumulations of computers, gaming devices, laptops, tablets and cell phones. (We have an average 2.5 televisions per household)
All this accumulation of stuff is draining us. We spend so much time buying stuff, moving stuff and storing stuff. Have you ever come home with a purchase and thought, "Now, where am I going to put this?"
On Saturday, June 14, from 8:00 AM until Noon, I'm going to give you an opportunity to get rid of some of that stuff. Start looking around outside. Do you have a rake with half the tines missing? How about those old resin tables? Is there a lawn chair that has the seat worn through? What's in your garage? What are you keeping in your shed besides lawn tools and a wheelbarrow?
Stop thinking you are going to get that thing fixed if you've been saying it for two years. Give up! Get rid of it! I don't want you to bring us your good stuff. Your "good stuff" are items in nearly new condition that may be of value to someone in need. If you have good stuff, call the Restore at (703) 369-6145. Those Habitat folks will pick up your good stuff like furniture and appliances.
Don't kid yourselves, now…if it's junk, it's junk. Nobody wants to use your 12 year old computer or your 14 year old television. If your stuff is broken, ask yourself. "Can it be repaired?" Then ask, "Would I use it if it was repaired?" If the answer is "No" to either question, bring it to the Neabsco District Cleanup at the Dale City Commuter Lot on June 14.
Public Works is providing us a roll-off and our friend, George Beale, from VIP Recycling is going to take all your old electronics. If you bring us a trunk full of junk, we'll give you a voucher for a mini-sundae from Dairy Queen at Center Plaza. The family who brings us the most electronics will receive a $25.00 gift certificate to Smokin' Brays!
We will offer limited pick up for those elderly or disabled. Call Connie to see if there's room on the schedule: 703 590 6662.
Print the flyer and share this article with your friends.
Post Your Email Notices, Press Releases, Event Fliers, and Photos
Subscribe to the weekday Breakfast Links email FREE!
Get
updates straight to your inbox.