Will First Town Center be the 'Lone Ranger' that Transforms Dumfries?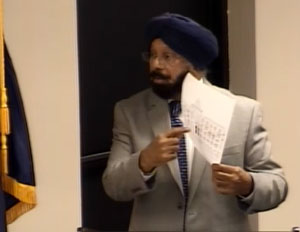 DUMFRIES, Va. — A Dumfries developer is betting that you would pay nearly $1,300 per month to live in a newly built one-bedroom apartment.
The Promenade at First Town Center is the off again, on again development that could soon line Main Street (U.S. 1 south) in Dumfries between the ACTS Thrift Store and a commercial building next to Town Hall.
The five-story building would feature retail shops on the first floor, such as restaurants, a bank, hair and nail dressers, and possibly a real estate office. On the remaining four upper floors, Singh will build 252 new apartment units which will be priced from nearly $1,295 per month and up.
The idea is to bring more business to the town, create more foot traffic and mixed-use development, and broaden the town's tax base, said Singh. The businessman also says he'll add new park benches to Garrison Park behind town hall to make the square more appealing and new street lights to both sides of Main Street?
So, what's the problem?
Singh wants two non revenue generating apartments, or what he called "rest areas," on the first floor of the building, to house building engineers who would be on call in the event of an emergency.
"The Planning Commission is adamantly against it because it is not in accordance with Town Code," said Dumfries Zoning Administrator Laura O'Dell. "When [Singh] previously submitted this a year ago, this was a major sticking point…"
So in other words, no apartments allowed on the first floor per town rules. The Dumfries Town Council spent the better part of an hour Tuesday questioning Singh and debating the definition of an apartment is or isn't.
This isn't the first snag Singh has hit with Town officials in his endeavor to develop First Town Center. In 2012, the project halted after he failed to get support from area homeowners, and the town told him they would not devote anymore staff time to the project until he did.
And,  that building next to Town Hall: Singh owns that one, too, and it's not completely full with tenants. That has left some questioning why he would want to build another building next to it if he can't completely lease out the first one.
Building heights in the 1.6 square-mile town are capped at 80 feet, and Singh's original plan for a six-floor Promenade was going easily top that height. So, according to Singh, he spent $100,000 to have the building redesigned to have only five floors.
"By taking away one floor of the building, it took away $150,000 in tax revenue per year away from the town" argued Singh.
But the developer says he wants Dumfries to be a place where people drive to, not simply drive through. And he called his Promenade project "the lone ranger and is going to make it happen."
Those first floor apartments that are against town code won't actually be apartments, said Singh. Instead, they'll be in the back of the building tucked away from plain view and have a bed, shower, kitchen, and a place for an employee to stay while they would "work 12 hour shift at minimum wage," said Singh.
"What you just described, Mr. Singh, anywhere in America…is an apartment," said Vice-Mayor Willie Toney.
Some buildings do have onsite engineers to watch over the grounds.
"If they get pipe break in the middle of the night what are they gonna do? Wait for Johnny Plumber to come out? Good luck with that. In the meantime they're going to flooding out four floors," said Councilman Charles Brewer, who is an advocate of taller buildings in the small town.
To get his ground-floor apartments, the Town Council must first approve a conditional use permit, and must hold a public hearing before they vote. The Promenade at First Town Center will move forward to a public hearing scheduled for Tuesday, June 3 at 7 p.m.
Post Your Email Notices, Press Releases, Event Fliers, and Photos
Subscribe to the weekday Breakfast Links email FREE!
Get
updates straight to your inbox.