Zaki Scott Finds Help at Boys & Girls Club, is Honored as Youth of the Year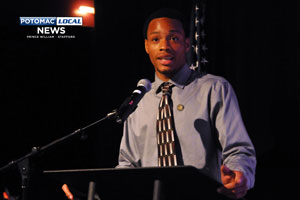 MANASSAS, Va. — When Zaki Scott's parents were fighting, he didn't care much about school.
Things were good when he was living in Dumfries, going to Graham Park Middle School, and was active at the Heiser Boys and Girls Club, a place where he was active after school.
But when he learned that he would be moving to Manassas and leaving all his friends behind, things changed.
"I thought I was going to forest park high school, turns out I was going to Osbourn high School in Manassas," said the now 17-year-old high school senior.
And if leaving behind his friends wasn't enough, things at home got worse.
"During that period of time the relationship between my stepfather and my mother was not good at all, which resulted in us living in a shelter," he said.
Now at Osbourn High School, Scott's grades dropped and he began hanging with the "wrong crowd."
But later on, Scott not only found help, he also found some old familiar faces. He got involved with the Boys and Girls Club again, this time in Manassas, where he saw some of the same people that coached him while at the Club in Dumfries.
He began by shooting hoops, and then he found the Club's computer lab where he completed his homework and found a place to study.
"When I walked in it already felt like I was home," said Scott.
He was honored Thursday at the Boys and Girls Club's 25th Annual Steak N' Stake Dinner at the Hylton Performing Arts Center in Manassas. The annual charity dinner raised $35,000 for the organization that calls itself the "positive place for kids," with branches in Dale City, Dumfries, and Manassas.
Smith was the youth of the year and was introduced to the audience by Guy Lambert, who is the news director at WPGC-FM. He took the podium and spoke with no script, captivating the audience with each word. Afterward, he received a standing ovation.
Smith said he will enroll in Northern Virginia Community College in the fall. He has a keen interest in radiology, but he's a student of many sciences.
"I can always change, but I really don't know. You go to college to learn so I could step into this field and find out it's really not for me," he said.
Post Your Email Notices, Press Releases, Event Fliers, and Photos
Subscribe to the weekday Breakfast Links email FREE!
Get
updates straight to your inbox.