Church Draws Locals to 'Taste of Africa' Event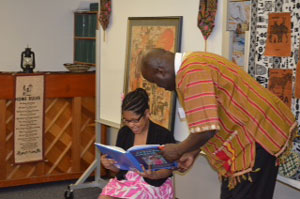 LAKE RIDGE, Va. — On Saturday, April 26, 2014, the Church of Jesus Christ of Latter-day Saints (LDS) held the unique "Taste of Africa" event at their Woodbridge Stake Center off Old Bridge Road.
As guests came in, they were greeted by volunteers, given name tags, and directed to explore fifteen African countries in class rooms around the building.
This was no ordinary church activity. Planning for this event took roughly four months. Close to five hundred people were in attendance, and about seventy volunteers made the event possible. One of the organizers, , said:
"We wanted to create an awareness about our African and African American members of the church. The event was an invitation to come and see…the diversity in the church. Sometimes, people think that a particular type of people go to this church or that other people don't belong with us. We organized this event because we are not an all-white church as some people say. That is not who we are. The LDS church invites everyone." said Jeff Kimera, from Kampala, Uganda one of the event's organizers. "As LDS members, we are part of a big thing which is the gospel of Jesus Christ. This message is very important for me. The message is that everyone is welcome and God treats everyone the same. We hope people who came to the Taste of Africa event will stay and worship with us and come back again and again."
Around the building in classrooms, presenters explained their displays of art, jewelry, cravings, clothing, and flags from African counties. The country presenters were either from that country or had lived in that country for several years.
"Every room gave a different sense of Africa," Patricia Thomas of the Lake Ridge.
Small children rushed to the presenters, collecting stamps in their passport books. In one room, they colored and made crafts, in another they sat and listened to traditional African stories.
"I like that everyone is so open, and interactive and asking questions about all of the different African countries and members here tonight," said Lilly Sanusi, of Lake Ridge.
Post Your Email Notices, Press Releases, Event Fliers, and Photos
The FREE email packed with local news
The FREE email packed with local news
The FREE email packed with local news
Sign Up