2014 Town Elections Profiles: Tyler Brown for Occoquan Town Council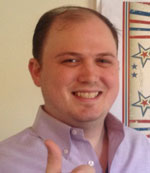 Name: Tyler C. Brown
Age: 28
Hometown: Alexandria, Va.
Office seeking: Occoquan Town Council
Occupation: Infiniti Master Technician
Education: Studied International Marketing at Northern Virginia Community College
Community involvement: Attending Town Hall meetings, advocating on behalf of neighbors.
Campaign website:  facebook.com/tylerbrownforthetown
Why should young people be excited to vote for you?
I am going to bring fresh ideas to the town of Occoquan while still preserving small town charm. I will bring creative solutions to the table to solve problems. Also I would like to see the completion of the new park, as well as a boardwalk to reinvigorate our down town area. Also as a councilman I will advocate for more events in the town which can bring extra revenue to the town. Also I'm 28 years old so I'm one of them.
In your opinion, what are the top three major issues facing the district you wish to represent? What concrete solutions do you propose to address these issues?
Occoquan is at a crossroad we need to revitalize the commercial district in our town, or else in the near future we will live in a town home community. As councilman I will support legislature which will help the small businesses in town, as well as see the completion of the new park to the high Occoquan standards. Also I will purpose building a boardwalk along the Occoquan river which I believe will help the business in Occoquan as well as giving us all a nice place to enjoy.
The cut-through traffic has become a real nuisance for local residents. Commuters attempting to save a couple of minutes on their way to points west from Route. 123 come through our town causing excessive traffic in the morning and evening. While this can be beneficial for the business, it is also a safety hazard. Crazed drivers on their way home from work run stop signs, speed, and have no regard for pedestrian safety. I will work to make sure the traffic around Occoquan flows faster so people who drive through town can enjoy it.
Unfinished construction. As councilman I will work diligently to make sure that Occoquan is free from blight. I feel like this is one of the biggest detriments to Occoquan's success.
What are the biggest issues and needs facing the youth of your district? What will you do to address those needs?
We need to bring fresh ideas to bring small businesses and restaurants to town. This will bring more foot traffic, which will mean longer hours for shops and restaurants, which means more jobs for young people. Also these shops and restaurants will attract a younger crowd which typically spends more money. I will work with local business and future businesses as well as the rest of the council to make this happen.
From your prospective, what is the job description of the office you're seeking? What expertise will you bring to the position?
A town councilman helps lead the town in the right direction, makes decisions which they believe will take the town in a direction which their constituents desire. I will bring fresh ideas to the council, and can bring a new perspective from a younger person who is knowledgeable about business and technology. I have a goal oriented personality when I decide I am going to pursue something I get it accomplished.
Do you feel that the average citizen is well-informed and understands the workings of town government? If not, how do you intend on improving communication with your constituency?
Earnie Porta has done a great job with his e-mail list at keeping people informed with events in the town. In my talks with town residents most of them do not understand the workings of town government, it can all be very secretive at times. People often feel alienated during town hall meetings as though their say means nothing to the council. As councilman, I would push for more community input during council meeting, and not pretend to know everything.
Have you ever made any mistakes in your public life? How have they effected you?
Yes, answering questions about mistakes. Every failure is a learning
Is there something that you are currently working to improve and develop within yourself to become a better leader?
I am actually in the very beginnings of starting my first business. I am working with people in a few different countries so working on communication is key.
Editor's note: Editor's note: Residents of Prince William County's towns of Dumfries, Haymarket, Occoquan, and Quantico will head to the polls May 6. PotomacLocal.com emailed a questionnaire to all candidates seeking office in this year's elections in . The responses we received will be posted to this website.