Moser: Bridge Project About Revitalization or Trampling Rights?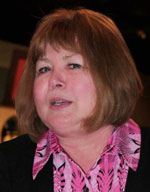 I just got an email from a grade school friend, telling me St.Augustine Church is undergoing some renovations. If you follow that link you'll see photos of the restoration work. If you click here, you'll get a virtual tour of one of the most beautiful Catholic Churches I've ever seen in the rather unlikely place of Jeffersonville, Ind.
I attended St. Augustine School from 1959-1967. The school was over 100 years old when I went there and closed two years after I graduated, then eventually was demolished in 1975. Our school was a victim of sprawl. For a time, the population steadily grew until we were actually overcrowded. Then, as subdivisions were built, farther away from the town center, new schools were built to accommodate those new houses and new families. St.Augustine, located in an aging neighborhood, saw their children grown, graduated and moved to another location. Enrollment diminished and eventually led to the demise of the school and nearly of the town itself.
Growing up there in the 1950's and 60's there were two big employers, Colgate-Palmolive that thrived in the 60's and survived until 2007, and Jeffboat, which is still operational today. Both companies were union jobs, with benefits that included retirement and insurance. Other than those, your options were pretty limited unless you worked across the river in Louisville, Ky.
I haven't been back for a while, but I follow the town on Facebook and I've become a long distance admirer of the Mayor of Jeffersonville, Mike Moore, who I've never met, but seems to be driving the town through a Renaissance as the downtown has become a tourist attraction and the Historic District is being restored.
Jeffersonville is taking advantage of the tourist opportunities offered by the Kentucky Derby Festival. One of the most ambitious projects in revitalization I've seen is the restoration of the Big Four Bridge.
The bridge connects Louisville to Jeffersonville, and while no longer operational as a train bridge, it will soon be open as a pedestrian bridge. There have been many delays in the opening, and it's possible it will not be open in time for the Derby again this year. That will be a terrible disappointment to local business, but this town has learned to survive the tough times and keep moving forward.
Thunder over Louisville has become a national draw for tourism and of course, with any large event, the concern for safety is paramount. The city has produced a video to help citizens understand the dangers and included a checklist of items not allowed. The checklist has a number of citizens irate and upset that their constitutional rights are being violated.
Prohibited items:
• Open Carry of Alcohol
• Weapons of Any Kind (handguns and pocket knives)
• Glass bottles and containers
• Silly String and Noxious Gases 
• Skateboards and bicycles 
• Unauthorized Vehicles (ATV's and 4-wheelers)
• Laser Pointers
• Pets
I draw a lot of parallel lines between my past, my present and my future. I'm sharing this story with you in the hopes you will see the same things or at least consider the possibilities.
What I see is a revitalization and opportunities taken to capitalize on the best the town has to offer. I also see the foot dragging and obstacles thrown in the way by opponents, naysayers and even citizens who are more concerned for their rights than for the common good.
Not to go all Kumbaya on you but I can definitely relate!.  
Post Your Email Notices, Press Releases, Event Fliers, and Photos
Subscribe to the weekday Breakfast Links email FREE!
Get
updates straight to your inbox.