Irene Ann (Rene) Tierney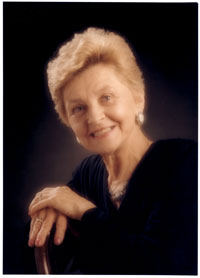 In the early morning hours of March 24, 2014, Irene passed away peacefully of natural causes at home. She was 97 years old. Irene was a long time resident of Triangle and most recently of Fredericksburg VA.
Irene Tierney was born in McKeesport, Pennsylvania, a suburb of Pittsburgh, on April 15, 1916. She was the eldest of four children of John and Anna Fedor.
She attended St. Brendan's Catholic School in Braddock where she played varsity basketball and graduated with a teaching degree from California State Teachers College. She married her high school sweetheart, Bernard Tierney. As a young couple, they relocated to Triangle, VA to start a restaurant business in Quantico. She was a founding member of St. Francis of Assisi Parish and the Altar Guild Society.
Irene opened Sharon Road School, a private First Grade, in 1953 to serve the needs of area military and civilian children. The school served hundreds of children until its closing in 1970. Always an innovator with a zest for people, Irene was an area leader with World Book Encyclopedia and volunteered at Potomac Hospital where she was then offered a position. After retiring (again), she began traveling and took great delight in coordinating trips for seniors to varied destinations. A lifelong walker, she became a competitor with the Virginia Senior Olympics and medaled in shot put and discus competitions for several years. Irene was also a House Delegate for the 52nd District as a member of the Silver-Haired Legislature for the Commonwealth of Virginia.
In 1995 Irene moved in with her son, Michael, in Lake Montclair to spend six months there and six months in Flower Mound, TX with her youngest daughter, Kathy. She relocated to Texas full time in 1997 and continued involvement with the Senior Olympics, tap dancing, Jazzercise, traveling, and took up oil painting. Irene relocated back to Virginia with the Notarnicola family in 2002 and settled in Fredericksburg at the family's home of Autumns Gate Farm on the Ni River Reservoir. She was a member of both St. Patrick's and St. Matthew's parishes and continued her love of gardening and walking and visiting with the young riding students and their families. Irene enjoyed an active, full and loving life till taking to her bed in the family home only in recent years.
Irene always viewed life as a "cup half full" and never had a harsh word to say, but saw the good in everyone. She touched hundreds of lives over her lifetime with very special impact on her nine grandchildren and five great-grandchildren.
She was preceded in death by her husband Bernard A. Tierney, Sr., sons Bernard A. Tierney, Jr. and Paul R. Tierney, sister Dorothy Heatherington of Seminole, Florida and brother Robert Fedor of Bellingham, WA.
Irene is survived by son Michael B. Tierney of Fredericksburg, daughters Maureen Abdelnour of Westchester, NY and Kathleen Notarnicola of Fredericksburg, and her sister Mae Kaila, also residing in Fredericksburg. She leaves behind grandchildren: Katy Tierney of Richmond, Matthew Tierney of Spotsylvania, Sheil Altaf of Chantilly, Kaeryn Tierney of Lynchburg, Hatteras Tierney of Fredericksburg, Marisa Notarnicola of Long Island, Chris Notarnicola of Fredericksburg, Morgan Abdelnour of Stamford, CT and Duncan Abdelnour of Tampa, FL. Great-grandchildren include Molly, Quinn, Colleen and baby Anne Tierney of Spotsylvania and toddler Liak Altaf of Chantilly.
A celebration of Irene Tierney's life will take place this Spring as the flowers she loved begin to bloom at Autumns Gate Farm. A date has not yet been set.
Special thanks are extended to Elida Andrade for her nursing care and especially to Gloria "Cookie" Tribby of Fredericksburg who was Irene's best friend and companion for the past five years and was loved and embraced like a third daughter.