Moser: 'Nights of the Roundtable' Resuming Video Taping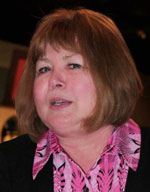 When my eyes flash open in the morning, (They do "flash" open. None of this slow leisurely awakening for me!) A deluge of thoughts pour out. It's as if, while sleeping, all these thoughts have been dammed up, just waiting for the opportunity to get out there in my conscious world.
Today, as I lurched from sleep, I was already considering the events recently past and the day ahead. There's no yawning and stretching, no snooze alarm, no snuggling back under the covers or otherwise transitioning into the day. It's full tilt awareness with a sense of urgency that grabs my body and mind from the sound slumber of a moment before.
Last night, I attended a great O.W.N. Optimist Club meeting where Kaitlin Keefer spoke to us about her recent stay in Ukraine as a Peace Corps Volunteer. Keefer taught Health, English and American History in a school with total enrollment of 400 students. She described the many differences in culture, employment, education, ecology and numerous other topics. We were all impressed with her knowledge of Ukraine, her command of both Ukrainian and Russian languages and her obvious love and respect of the Ukrainian people.
I shifted from last night to this morning before my feet hit the floor. I hope you recall Bill Golden and I worked on a video series titled, "Nights at the Round Table". We had to suspend production for quite some time, but check this out!
Connie Moser and Bill Golden are pleased to announce they will be resuming the Nights at the Round Table video productions on April 11. Recordings will be done on Friday afternoons and there is no charge for folks wanting to get a good message to the public. The topics may be political, social, or educational, with preference given to projects that benefit our community.

Recordings will include publicity, posting on You Tube and several web pages and may be used by the interviewee as they see fit, as long as credit is given to Nights at the Round Table, an Intelligencecareers.com production. Please contact moserconnie@hotmail.com to get on our production schedule.

Today, we are setting up a recording studio here in my home. The space is larger, the furniture more comfortable, and since there is no charge for recording, it will help immensely not to pay rent for office space!
As I move from the thinking to doing stage, I have a look at my calendar, sift through the email, check the Washington Post, all my local online news, the blogs, and Facebook. I'm stricken with guilt when I realize I have so much from yesterday's "to do" list that didn't get "to done"!
So, I had two fairly coherent thoughts, then all Hell breaks loose! Now it sounds like cacophony in my head as I hear: "Need to call Mottern Masonry for issues with the driveway, cleanup with Kipp Hanley on Saturday morning, Dale City Lions have nearly sold out of citrus fruit, need to post event for Prince William Committee of 100 on Facebook for the forum on April 17, meeting friends for lunch-first trip to Smokin' Brays-love to support local business, I hope I bookmarked that very sobering video of Abandoned Malls (I did bookmark and you should definitely have a look!)…the litany of thoughts and ideas is running full tilt boogie, now! Oh, and I need to write my Potomac Local column!
I don't drink coffee. The idea of my brain on caffeine is frightening.
Post Your Email Notices, Press Releases, Event Fliers, and Photos
The FREE email packed with local news
The FREE email packed with local news
The FREE email packed with local news
Sign Up