Porta: Occoquan Buys Oaks III Land, will Turn into Park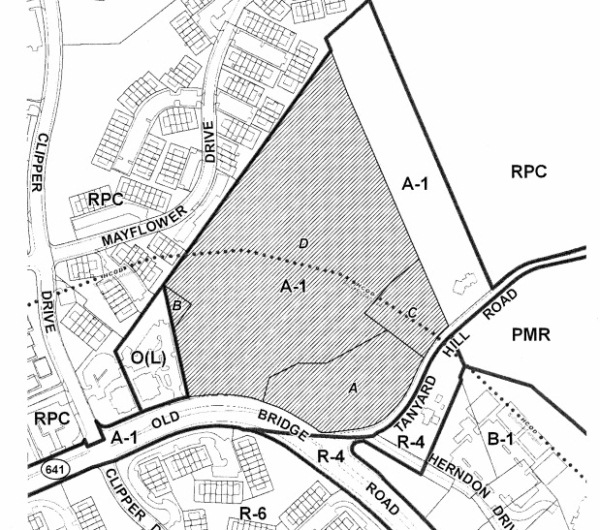 It is with great pleasure that I announce that the Town of Occoquan has executed an agreement with the NRA Foundation to purchase the 17+ acre property at the corner of Old Bridge and Tanyard Hill Roads, commonly known as the Oaks III property.
With this agreement we will be achieving the long-sought goal of preserving for generations a wilderness area along Tanyard Hill Road.
As many of you will recall, the Oaks III property, which is less than a mile outside town boundaries, was the subject of significant controversy in 2011 and 2012 when a developer sought to rezone the property to permit construction of a commercial building with associated parking.
The Town intensely opposed the rezoning application, citing concerns about storm water, increased cut-through traffic, the economic viability of the property for commercial use, and a lack of consultation with the town. At the time, working in conjunction with Occoquan Supervisor Mike May, the Town attempted to purchase the property from the developer using a combination of cash and tax incentives; our offer was rejected. In January of 2012, despite the presence in opposition of hundreds of Occoquan residents, business owners, and members of the surrounding community, the Board of County Supervisors voted 5-3 to approve the rezoning application.
Since that time, however, the developer has decided not to proceed with construction, and the owner, the NRA Foundation, has worked constructively with the town in pursuit of an alternative.
The Town is purchasing the property for $300,000 — the original cash offer of 2011. All of the property will be subject to a conservation easement, preventing future development.
We plan to use the property as a passive recreation park with trails, educational kiosks, and the like. It also offers a variety of possibilities for constructive collaboration with other community partners, including possible linkages to the LRPRA trail system.
There are a great many people to thank for this outcome, starting with the current members of the Occoquan Town Council, who unanimously and enthusiastically embraced this potentially unique opportunity, as well as the NRA Foundation for working constructively with us.
Additionally, today's outcome would likely not have been possible but for the community efforts exerted in the re-zoning struggle of 2011 and 2012. Those efforts included former town council members, County Supervisors May, Principi, and Nohe, who voted in support of the town, and of course the hundreds of residents, business owners, and others in the surrounding community who came out to support the town at the BOCS meeting in January 2012.
It is a diverse group that includes Occoquan activists like James Phelps, officials like Planning Commissioner Kim Hosen, and various business and other community leaders. This is without a doubt a community achievement, and it will go a long way toward the oft-expressed goal of keeping part of the Tanyard Hill Road entrance to Occoquan "forever wild."
Post Your Email Notices, Press Releases, Event Fliers, and Photos
The FREE email packed with local news
The FREE email packed with local news
The FREE email packed with local news
Sign Up