Advertised Tax Rate Enough to Cover School Funding Shortfall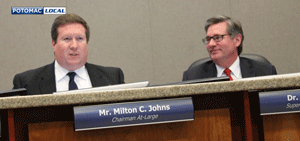 WOODBRIDGE, Va. — Sirens warning of a budget shortfall for Prince William County's public schools have silenced for now.
School officials told members of the Prince William County Board of Supervisors on Tuesday the advertised tax rate set by the Board – $1.158 per every $100 of assessed property value – would be enough to make up for a $8.7 million in funding the schools thought they would have lost out on in the coming year when new tax estimates came in back in December.
The Board could choose to adopt the tax rate later this month. It would be used as a baseline for the county's fiscal year 2015 budget that goes into effect July 1. If they go with a lower rate, sirens could sound again.
Prince William County School Board Chairman Milton C. Johns on Tuesday night presented the school system's proposed $917.2 million operating budget for 2015. Funded this year are teacher pay increases, $1 million for class size reduction at the sixth grade level, as well as reductions in utility costs.
The school system has also budgeted $85,000 cost  for its hotly debated, soon-to-be built indoor swimming facility at the county's 12th high school on Va. 234 near Hoadly Road. Schools spokesman Phil Kavits said this budgeted money is for "mortgage costs" and are not dollars that will go to fund the operation of the swim facility. Those will be budgeted for 2016 when the school opens. 
The top budget driver: the continually rising number of new enrolled students.
"While the enrollment has been on an inexorable upward glide slope the state and county funding has been on a rather level trajectory," said Johns.
Out of all of the counties in the immediate Washington, D.C. area, Prince William County spends the lowest amount of money per pupil, at $10,168 per student. In the City of Manassas Park, located inside Prince William County, schools spend $10,173 per pupil, and Fairfax County schools spend $11,472 per pupil, according to the Washington Area Boards of Education.
Prince William also has the largest class sizes in the Washington area. According to Supervisor Peter Candland, the $1.158 tax rate, if adopted, would give county schools $18.4 million more than it received last year, and he says more of that money should go to reducing class sizes.
"One million dollars for class size reduction in the budget? That's 0.2% of [the overall] budget going to class size reduction, and I think that, to many, would seem pretty small," said Candland.
The School Board on Tuesday also addressed unbudgeted revenue sources, such as fees for instrument rentals and repairs, and for lost or stolen library books. Officials said they don't budget those funds and instead return them to the individual schools that collect them.
Since Virginia has yet to adopt a final budget its unclear if the school division will get all of the $458.8 million it expects for 2015. If they don't, school officials on Tuesday did not say what items in the budget they would be willing to cut to make ends meet. 
*This story has been corrected. 
Post Your Email Notices, Press Releases, Event Fliers, and Photos
The FREE email packed with local news
The FREE email packed with local news
The FREE email packed with local news
Sign Up