Foreman Drops Out of Dumfries Mayoral Race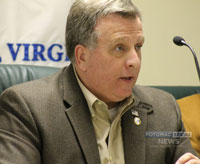 DUMFRIES, Va. — Incumbent Mayor Jerry Foreman ended his reelection campaign a month before the election.
He made his announcement tonight during the Dumfries Town Council meeting, stunning those in the audience.
Foreman said his stepping down was not an April Fools Day joke and added he had no comment as to why he made the decision. 
"I'm just really surprised by his statement," said Vice Mayor Willie J. Toney, who is also seeking the mayor seat. 
While the Council was still in session Tuesday night a group gathered outside Town Hall. One person walked up and spoke to Carmella Foreman, the mayor's wife.
"I thought we would have four more years," he told her.
Afterward, Carmella Foreman told Potomac Local News it was Foreman's decision to drop out of the race and that she fully supports him.
In a story published on this website on Monday, Foreman said he planned on meeting with the town's reorganizing Dumfries Business Association to be interviewed about his positions on political issues prior to the election on May 6. He gave no indication that he was planning to drop out of the race.
Potomac Local News also received a notice from Foreman's campaign manager asking for all campaign advertising to be removed from PotomacLocal.com.
Voters put Foreman in the mayor's seat in May 2012, choosing him over former Dumfries Councilwoman Nancy West, who was serving as the town's interim mayor following the death of Mayor Fred Yohey who died while in office.
Foreman was elected to finish out Yohey's mayoral term.
Originally elected to the Town Council in 2010, Foreman championed several causes for the town including widening U.S. 1 from four to six lanes inside the town's borders, cleaning up Quantico Creek and addressing town's Business and Professional Licensing (BPOL) tax.
A 25-year U.S. Marine veteran, Foreman severed at Quantico in the early 1980s and again in the early 1990s. He moved to Dumfries in 2006.
In addition to the mayoral race, there are several other seats up for grabs on the Town Council. Here are the candidates on file for, not only the Dumfries election, but all towns in Prince William County. Residents in each town will head to the polls on May 6.
Dumfries is the only town in Prince William County that has a Town Council whose members serve staggered terms. In the county's three other towns, the mayor and all town council members are all elected at once and serve equal term lengths.
Post Your Email Notices, Press Releases, Event Fliers, and Photos
Subscribe to the weekday Breakfast Links email FREE!
Get
updates straight to your inbox.