Water Tank Cell Phone Antenna Lease Agreement on Hold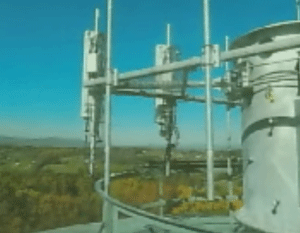 STAFFORD, Va. — A plan to place a cell phone antenna atop a water tower in Stafford County is on hold.
The Board of Supervisors delayed an agreement that would have had the Stafford County Utilities Department enter into a 5-year lease with New Cingular Wireless PCS, LLC that would allow the company to place a new antenna on the Stone River Water Tank at 17 Jason Lane in Stafford. The company would pay Stafford County Government $2,850 per month to lease the space atop the tower for five years, and have would have the option to renew the contract for four consecutive 5-year terms with a 3% escalation fee for each subsequent year.
A playground, tennis court, community center, swimming pool, and small cemetery all surround the water tower where the antenna would be hoisted. Residents who live nearby told Supervisors they don't want the antenna near their homes out of fears it would bring down property values. They also cited unknown fears of electromagnetic fields emitted by cell phone antennas.
"The water tank is surrounded by our subdivision's recreation area. I'm sure the Board's members would not vote of a cellular communications facility in their children's playground area, so please don't place one in ours," said Deborah Tricky, of Antietam Loop.
Others, including Aquia District Supervisor Paul Milde, expressed concern that the count would not be able to break the lease with New Cingular Wireless if problems with the antenna arose in the coming years.
"It's clearly a lease developed with their terms in it and it would put us at a disadvantage should you go with that lease," said Bobby Thornburg, of Pritchard Court.
Milde said he would meet with members of the neighborhood's HOA and to discuss the antenna, but said it would be a "good idea" to add to the water tower. The Board voted unanimously to delay the project.
A representative from New Cingular Wireless did not speak to officials during the meeting.
Stafford County officials in recent months have been looking for ways to improve cell phone service throughout the county, which remains shoddy in several rural neighborhoods.
Post Your Email Notices, Press Releases, Event Fliers, and Photos
Subscribe to the weekday Breakfast Links email FREE!
Get
updates straight to your inbox.