Evergreen Health Clinic a One-Stop Shop for Anyone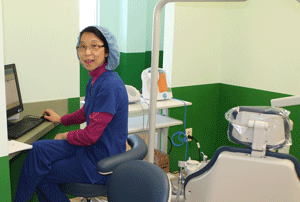 MANASSAS, Va. — The chronically sick, under insured, or uninsured in need of medical attention now have a new option in Manassas.
The Evergreen Health Clinic opened its doors on Monday offering an all-inclusive approach to treating the sick and tracking their progress keep them on the road to getting well.
The center in the Evergreen Terrace Building on Liberia Avenue offers primary health care, dental, OBGYN doctors, as well as outpatient behavioral health services provided by state-certified clinical physiologists. This center joins its sister location, the Ridgewood Health Clinic on Prince William Parkway in Woodbridge, which are both operated by the Greater Prince William Community Health Center.
"We want to open ourselves up to give people as much access as possible. Insured, uninsured, we don't care," said clinic director Frank Principi.
Open to everyone
Both centers treat anyone regardless of where they live, if they their sick or well, young or old. In fact, the center's oldest patient is 92. Patients come here from at least 32 zip codes in Virginia and Maryland.
The health clinic in Manassas is also located on a local bus line, and the idea is to get people in to see the doctor, get them treated, and then give them the medication they need from the in-house pharmacy during the same visit. The full-service pharmacy at Evergreen is slated to open April 1 and will be open to the public. The clinic also provides discounted or free medications for diabetes, asthma, heart disease, and other low cost, "maintenance" drugs people need every day for illnesses commonly treated at the clinic.
There are four doctors at Evergreen and more will be added as patient demand grows. The clinic scheduled appointments for 90 patients on its first day Monday, and its expected Evergreen will eventually serve 5,000 patients in its first year. The Ridgewood Clinic in Woodbridge already serves 10,000 patients per year.
"When our patients come in they don't have sniffles – they have multiple chronic diseases and it can be very difficult to manage…it's like a jigsaw puzzle," said Principi.
Network of care
While the all of the exam rooms are state of the art with primary care located on one side of the clinic and OBGYN care dedicated to the other, some patients must be referred out to specialists like ophthalmologists and podiatrists. For that, the clinic has worked out at least two dozen special agreements with doctors in the area ensuring that referred patients with little or no insurance will receive the same level of healthcare as those with a insurance card.
"That patient is going to walk into that doctors office like they own the place, just like any other patient, but they're going to be paying 45 bucks for that visit versus hundreds of dollars," said Principi.
Coming to the Prince William Community Health Center is not free. Uninsured patients pay about $45 per visit, while some insured patients pay about $60. The center also takes Medicaid, the monies of which go to help subsidize uninsured patients.
Tracking results 
The clinic received a $650,000 Obamacare grant to open the Evergreen Clinic, and 15% of its operating budget is made up of federal money provided by the Health and Human Services Department. To keep getting those federal dollars, Evergreen must continue to track patient outcomes and prove their doctors are making a dent and improving the health of their patients in Manassas, Manassas Park, and Prince William County.
Principi said the health needs in the Greater Manassas area are actually greater than they are in Woodbridge.
About 2,000 patients being seen in his Woodbridge clinic come from the Greater Manassas area. The hope is more from Manassas will choose to come to Evergreen to free up resources in Woodbridge, which would allow patients there to be scheduled and seen for a "well" visit sooner.
Many of the clinic's patients are working families that have historically neglected ignored their healthcare needs, sometimes because they simply didn't know it was available to them.
"Let's say you're an immigrant working two jobs, and you have two kids, no health insurance… you're going to have health issues just like anyone else and if you don't deal with them you are going to have these kinds of problems  that we're seeing the community," said Principi.
Room to grow
With room to expand, the center will look to bring in more imaging services for X-rays, and is already working with LabCorp and Northern Virginia Family Services to provide services to patients. There is 15,000 square feet of space on the third floor, above the Evergreen Clinic, that could be used for offices for specialty doctors as demand grows.
The Greater Prince William Health Center in Woodbridge was on the verge of collapse five years ago before Principi took over. He says a poor business model of only treating uninsured patients left the clinic in the red. The Woodbridge clinic expanded in 2010 and today has more than 80 employees shared between both locations.
Post Your Email Notices, Press Releases, Event Fliers, and Photos
The FREE email packed with local news
The FREE email packed with local news
The FREE email packed with local news
Sign Up