Voters Said Yes, but will Prince William Officials Use Money for Parks?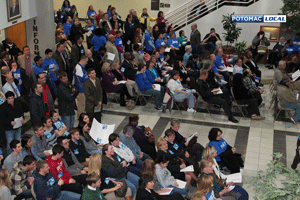 WOODBRIDGE, Va. — Prince William officials must now decide if they are going borrow money to fund the remainder of a long wish list of improvements at county parks.
Officials must act by November 2016 to borrow up to $13.7 million to fund improvements such as adding new playing fields or lighting to existing fields. When the option to take out a bond to fund the improvements was advertised, and ultimately approved by voters eight years ago, officials said the money could be used to expand indoor swimming pools at the Chinn Fitness and Aquatics Center in Woodbridge and the Ben Lomond Community Center near Manassas.
"You have never let a bond expire that has been voted on by your voters. So, this is an issue you are going to have to talk about," Prince William County Executive Melissa Peacor told the Board of Supervisors in February.
And on February 25, they talked about it during their evening meeting when more than 300 people came to the county government center to lobby for a higher tax rate to give more funding to not only parks, but for schools, public safety, and community health services.
"Without youth sports programs our society will not be successful and the quality of our life decreases. Youth sports need more field and more funding to be more successful in any area, but especially in an area that is growing as fast as ours is," said Gainesville-Haymarket Baseball League President Mike E. Bishop.
His sons, Matthew, 7, and Nathan, 10, also told Supervisors what it was like playing on un-lit fields, a problem they said they didn't have when they lived in Richmond.
"There are not enough fields in Prince William County, and where there are fields there are not enough lights," said Nathan. "Last fall my team had to get off the field because we couldn't see the ball. That never happened in Richmond because we had enough lights."
County officials already borrowed a portion of the overall $27 million park bond approved by voters in 2006 to fund things like improvements to Veterans and Hellwig parks, more trails, sports fields, and for new parks at Quantico, Catharpin, and Occoquan. While expanding the indoor swimming facilities was talked about in 2006, the remaining $13.7 million doesn't necessarily have to be used to build pools.
Late last year, the Prince William County School Board approved a $10 million indoor aquatics facility to be built inside the new 12th high school near the intersection of Va. 234 and Hoadly Road. School officials say that in addition to funding from taxpayers, the cost to operate and maintain that pool will be offset by swim teams, families, and organizations that will be able to rent out the facility for their own events.
Even though it's a done deal, some officials are still sore over the school division building the swimming pool rather than the county's Parks and Recreation Department.
"We knew that there should be swimming for the kids, we've heard it for years…but this was our responsibility to take care of that debt, not the school division," said Potomac District Supervisor Maureen Caddigan.
Ultimately, those who wanted the highest property tax rate possible for the FY2015 budget at $1.18 per every $100 of assessed value were disappointed when county officials adopted an advertised rate of $1.15. When the budget is adopted in April, the adopted tax rate cannot exceed the advertised rate.
If the $1.15 rate is adopted, the county's FY2105 budget will be $862.3 million, an increase of 5.4% over the previous year, making for an average tax bill of $3,600.
Post Your Email Notices, Press Releases, Event Fliers, and Photos
Subscribe to the weekday Breakfast Links email FREE!
Get
updates straight to your inbox.