Moser: No Underfunding of School Children Happening Here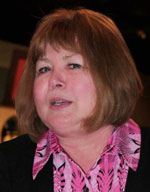 If you watched the BOCS on February 25, you may have seen the debate raging to set the advertised tax rate for the 2015 fiscal year.
I spoke at the afternoon session, not wanting to be involved in the likely long evening session during citizens' time. There was a lot of heartfelt commentary from citizens ranging from the PWC Arts Council who joined forces with many other non-profits, like ACTS and Habitat to show the connectivity and importance of the wide range of services and necessity for access to all in our community.
Many local coaches and a few players showed up to ask the county to fund lacrosse, baseball and soccer, although I didn't hear anyone asking for assistance with basketball or cheerleading. Prince William County hosts a page on the web with contact information for all sports leagues in the county, so if you'd like contact information, it's all available here.
There were a lot of teachers and educators there, too. There was an impressive assembly of a group dedicated to smaller class sizes who have developed a healthy Facebook team of over 1000 people in a very short amount of time.
I noted a couple of things I want to share with you.
1. The majority of folks who spoke believed that requesting the current tax rate remain the same meant there would be no increase in their taxes. That is not correct. Housing appraisals have increased, so even if you have a lower tax rate, you will likely have a tax increase. Particularly hard hit will be the lower valued homeowners who have regained some of their lost value this season.
2. There seemed to be widespread misunderstanding regarding the allocation of funds to the school system.
Prince William County Public Schools receive nearly 50% of the budget. Many people believe we need to increase the amount of funding we give to schools, but I operate under "fuzzy math": There are approximately 85,000 students in Prince William County. That's about 25% of the total population. Census statistics from community survey in 2009 indicated the percentage of population under 18 years old is 30%.
Out of the total county budget, not only is almost 50% allocated to education, but all the remaining services would also allocate 30% of their budgets to children based on the population percentage. Some might be higher, like Parks and Recreation and some might be lower, like economic development, but just for argument's sake, let's say it averages 30%.
That would mean that nearly 80% of all taxes paid by Prince William County residents is dedicated to children in some way. I'm not complaining about that, but I am saying I don't think we are underfunding our children or their education.
I do think there needs to be some reining in of the way that money is spent. I am very concerned about the debt accumulated, debt service and the need to invest in renovations for older schools in our communities.
So if you want some real solid figures as opposed to my fuzzy math, read this Derecho post and have a look at the photo to see how funding is allocated in the budget.  
Post Your Email Notices, Press Releases, Event Fliers, and Photos
The FREE email packed with local news
The FREE email packed with local news
The FREE email packed with local news
Sign Up