Smaller Class Sizes, Increased Teacher Pay Hinges on Tax Rate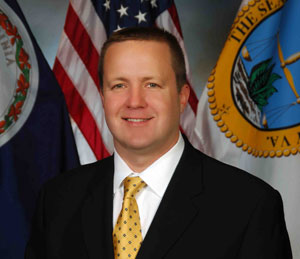 Chairman Corey Stewart says and says money to lower class sizes and increase teacher pay has to come from somewhere.
He and the Prince William County Board of Supervisors is now wrangling over a proposed $975 million budget that doesn't leave much room for the hiring of new police officers and fire and rescue personnel, or bringing on new employees into government that saw positions go unfilled or slashed since the start of the recession in 2008.
Because county officials are committed to capping the increase of the growth of the average tax bill at 2.5% per year between now and 2019, and because of unexpected growth and revenue in the housing market over the past year, the tax rate will have to be reduced 5.5 cents to $1.126 per every $100 of assessed residential and commercial property value to keep pace with the 2.5% tax bill growth cap.
Prince William County Public Schools are expected to lose $8.7 million in the coming budget because of the lower tax rate. Those funds, along with the remainder of school funding from the Prince William County Government, would have been automatically transferred to the School Board under a 57.23% revenue sharing agreement.
The School Board earlier this month, by a motion set forth by Potomac District School Board member Betty Covington, unanimously passed a resolution urging the Board of Supervisors to find a way to fund the $8.7 million shortfall.
Stewart is in full support of continuing the automatic revenue sharing agreement, something that is unique to Prince William and Albermale counties in Virginia.
"I talk to many other localities a lot more than any other person on the Board and I can say the rev sharing agreement is the greatest thing… you take the bickering out of the split," said Stewart.
School officials met with the Board of County Supervisors several times during the previous year and each time stressed that lowering class sizes (Prince William currently has the largest student to teacher ratio in the Washington, D.C. area) and increasing teacher pay are top priorities.
Now, the Board of Supervisors on Tuesday must vote on whether to move forward on a reduced tax rate of $1.126 to keep the promise of an average tax bill growth of 2.5%, which would increase the average tax bill about $85 per year to just under $3,500.
Stewart says he'll be speaking to residents about how they feel about the proposed tax rate in an effort to make sure schools, as well as departments in county government are funded at critical levels.
"When I leave this place I want people to look back and say 'the community had this challenge… and it had that challenge,' and that they say I met them and I got the job done," said Stewart.
The Board of County Supervisors is also scheduled to hear from School Board Chairman Milton C. Johns on Tuesday night to learn more about the School Division's annual budget for FY2015.
Post Your Email Notices, Press Releases, Event Fliers, and Photos
The FREE email packed with local news
The FREE email packed with local news
The FREE email packed with local news
Sign Up