Biartisan Leaders Call License Plate Data Storage Unnecessary Gov't Intrusion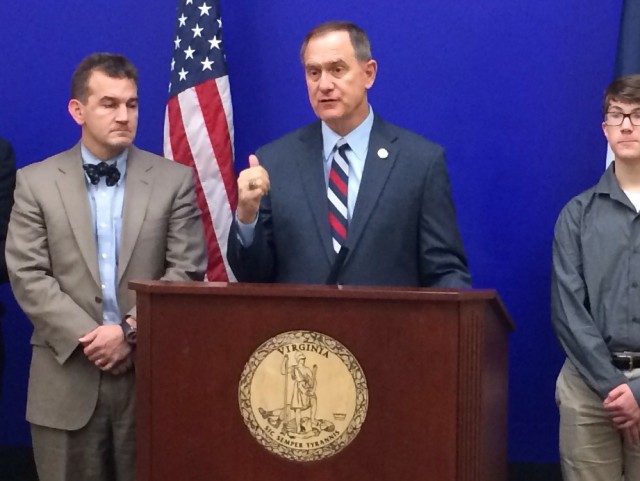 Officials in Richmond are raising questions about how local police departments, including Prince William County's, store data collected from automatic license plate readers.
On Monday, several officials to include Delegate Richard Anderson (R-Prince William) and Senator Chap Petersen (D-Fairfax) announced they would band together to "protect the privacy and liberty of Virginians against unnecessary intrusion by government agencies and law enforcement."
At issue is the storage of information collected by license plates readers – electronic devices attached to police cruisers that can read letters and numbers on the license plates of passing vehicles. In addition to on their on-the road use, the readers are also used by patrol officers in parking lots. The readers have been credited in successfully identifying and recovering stolen vehicles in Prince William County.
But officials in Richmond said police in Northern Virginia ignored an opinion set forth by former Attorney General Ken Cuccinelli last year that stated law enforcement agencies should not keep on file data collected from the readers unless that data was collected for a specific criminal investigation. New legislation introduced this legislative by members of the caucus want to make Cuccinelli's opinion law.
"I am deeply concerned that some law enforcement agencies in Northern Virginia seem willing to ignore the Data Practices Act, or at least the spirit of the law, and are continuing to collect and store personal data that has no relevance to any current criminal investigation or situation involving public safety. Delegate Anderson and I believe that the new Caucus will offer a forum for continuing discussion and oversight of privacy protections all Virginians thought were already guaranteed by law," stated Petersen.
Anderson raised a personal point of order in the House of Delegates last week to address the issue.
"I'm convinced that Virginians want to be both secure and free, and I am confident that we needn't sacrifice one to accomplish the other," said Anderson.
License plate data is stored for six months after it is collected by Prince William police. Fairfax and Loudoun counties keep the date on file for one year.
Prince William police Chief Stephan Hudson spoke to the Washington Post about the issue last month:
Prince William Police Chief Stephan Hudson said that detectives need the data to solve serious crimes or see crime patterns which may not be immediately reported and that they might benefit from a look at which vehicles were at a crime scene at the time of the offense.

"It's impossible for us to say within a set period of time," Hudson said, "whether the [license plate] data would be relevant to a criminal investigation."
The caucus has been called a bipartisan effort to address the license plate reader issue. It also includes Delegate Scott Lingamfelter (R-Fauquier – Woodbridge), Delegate Bob Marshall (R-Manassas) and Delegate Betsy Carr (D-Richmond).
 *Photo: Submitted
Post Your Email Notices, Press Releases, Event Fliers, and Photos
The FREE email packed with local news
The FREE email packed with local news
The FREE email packed with local news
Sign Up