Students Plea for School Funding to Lower Class Sizes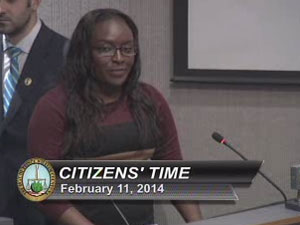 With the possibility of fewer local and state school funding next year, public school students made an impassionate plea to Prince William County officials Tuesday night. They said their overcrowded classrooms have led to disruptions, fighting among students, and have negatively impacted the academic process.
The students, as well as members of the Prince William Federation of Teachers, urged the Board of Supervisors to fully fund the county's public school system during the upcoming budget season. Students also said there too much focus has been placed on Virginia's Standards of Learning exams.
"In my classes, the focus has been put on passing a test and not succeeding overall in life. We should put more focus into learning form all sides," said Kimberly Alfaro, 17, a junior at Gar-Field High School in Woodbridge. "I love to learn…I love to ask questions from all angles, not about just what's on the next test."
With only one teacher to an average classroom of 25 or more learners, keeping students well-behaved and under control can often get in the way of educational time.
"I've seen a lot of wandering eyes on tests, and when we have chaotic classrooms – when a large amount of adolescents are in confined spaces – it can be a danger to others and learning" said Jessica Wilson, 17, a senior at Woodbridge Senior High School.
Prior to coming to Woodbridge high, Wilson spent a year in an all girls classroom at Woodbridge Middle School where, she said, the classroom was rife with student disruptions and misbehavior.
"In a classroom of all 28 girls, you can image how that went," she said.
Prince William officials give just over 57% of the county's entire budget to the school division. Schools Superintendent Dr. Steven Walts told school officials that an expected reduction in state and local funds in the coming year could impact efforts to reduce the average number of students in classrooms. Prince William County has the largest number of students per teacher in the Washington area.
"We urge you to fully fund our school system for the good of the county," said Bill Hosp, with the Prince William Federation of Teachers. "Great things can happen if we put our differences aside for the moment and focus on what's good for our students."
Photo: Woodbridge Senior High School student Jessica Wilson addresses the Prince William County Board of Supervisors. 
Post Your Email Notices, Press Releases, Event Fliers, and Photos
Subscribe to the weekday Breakfast Links email FREE!
Get
updates straight to your inbox.