Moser: Confronting Panic, Fear in the Face of a Hip Replacement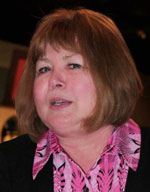 One of the first rules of writing is to write about what you know. I confess, I do not follow that rule very often. If I did, I probably would have exhausted my writing skills three years ago, when I first began writing for Potomac Local. I tend to write more about what I feel and then attempt to add some factual, useful content and some helpful links so by the end of a column I know more than when I began. I hope it works that way for you when you read it, too.
Sometimes the "knowing" and the "feeling" are not compatible. Monday morning, I am going to Sentara hospital for a hip replacement. Almost everyone knows what that is, but I suspect not many of us actually know how that is done unless you are one of the 285,000 patients per year who undergo this surgery.
This page from the American Academy of Orthopaedic Surgeons will tell you nearly everything you need to know about the procedure, including why the surgery is done, how surgery is performed, pre-operative and post-operative care, and quite a few illustrations.
If you are brave, here's a video, but I'll give fair warning, it is graphic. I'm telling you that because those words accompany the video. I didn't watch it! None of those pages can tell you how hip surgery feels. Hopefully, I will be well sedated and I won't be able to tell you how it feels either.
I can tell you how I feel emotionally in one word: "Panicked!"
One of the hold-over issues from an unstable childhood is the need for control. When I was young, I had no control over my situation. Some yelling, screaming parent would culminate a tirade with, "I can't handle her anymore! You take her!"
The next thing I knew, I was being sent to live with mom or dad or my grandparents.
I spent a lot of time being scared and unhappy, and as an adult, I recognize I felt that way because I was powerless. Even today, some forty five to fifty years after that turmoil, some traits still sneak out. I can't stand uncertainty. I hate to feel like I am not in control.
One of the things that makes me a terrible automotive passenger or causes me to be afraid of flying is that I have no control of the situation. I am putting my safety in the hands of someone else.
So, you can probably imagine how I feel about surgery. I'm entering an environment where I am totally dependent upon others. I've met my surgeon twice and looked him up at the Virginia Board of Medicine Practitioner Information. My doctor has no actions against his practice and has paid no claims. That tells me he hasn't been sued for malpractice. There was no information listed regarding his awards or credentials, but based on about 24 minutes with him on two occasions, I like him!
So, wish me luck. I'm sure I'm going to have one of those 95% successful surgeries. (I am assuming I won't keel over from a panic attack!)
Post Your Email Notices, Press Releases, Event Fliers, and Photos
Subscribe to the weekday Breakfast Links email FREE!
Get
updates straight to your inbox.