Physical Therapist Finds Creative Ways to Reach New Customers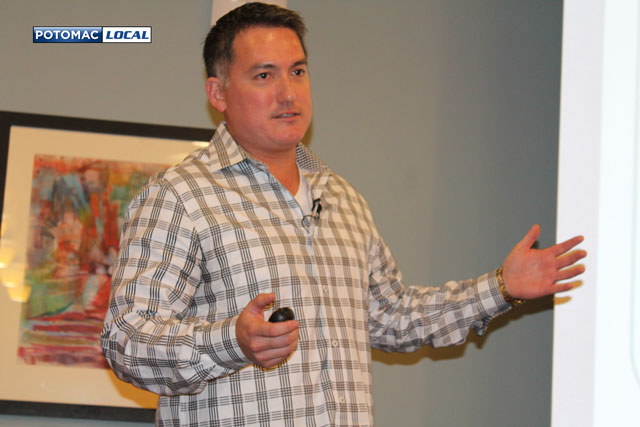 Things are changing in the world of physical therapy. With a new federal healthcare law and efforts underway to expand Medicare coverage in Virginia, it's impossible to know now how much the medical landscape will change.
Since 2006, Advantage Physical Therapy in Gainesville has been assisting injured people back to heath. Mostly outpatient physical therapy, the center treats back pain, troubled shoulders, joints, and basic head-to-toe rehabilitation cases.
Advantage opened a second facility in on Liberia Avenue in Manassas in 2012 and today sees about 230 patient visits per week (sometimes patients comes in more than once so they're measured in patient visits) between both clinics. The center employs 19 workers from the community, and last year the company saw its best year yet in revenue.
But patient growth has been stagnant, and that has owner Jim Aram looking to try new ways to reach new customers. He's toyed ideas like new patient seminars, and a wellness program targeting seniors, but one of his most hopeful approaches is to educate his would-be customers about the importance of staying fit and active, which ultimately leads to better heath.
"Wellness is such a broad term but its one that excites me, it's a huge umbrella and I think that there is a group of consumers out there with the proper mind set, my health insurance is like my car insurance, it's going to help me, or not financially bankrupt me if I have something major happen to me," said Aram.
As far as he is aware, there are no major changes to the way his business will operate under the new federal healthcare mandate. The changes in healthcare could mean there might be a new demand for physical therapy services.
Playing on the car insurance – health insurance comparison, Aram said people should understand some good-for-you preventative or rehabilitation care may not always be covered under health insurance.
"As far as oil changes go, or washing my car, or getting new tires, I understand my car insurance isn't going to pay that, and neither would health insurance so we're trying to find niches in new markets and see what can we do, and what can we do well," said Aram.
Over the next 12 months Aram will sponsor more 5K runs and walks, as his company has found success in reaching customers from that niche market. He also plans to reach expectant mothers to teach them pre-natal care and about correct posture during the months of pregnancy.
There's also a chance for Advantage to reach couch potatoes reach a better level of fitness.
"We're looking at reaching the people may be intimidated by going to the gym and seeing the ladies in their yoga pants and their belly shirts, but they really want to get off the couch and start moving and improving," said Aram.
A business partner focuses on providing quality care to patients while Aram focuses on the day-to-day work of business and marketing tasks. He opened opening two orthopedic clinics for another company, which led to the desire to open his own facility.
 Photo caption: Jim Aram of Advantage Physical Therapy
Post Your Email Notices, Press Releases, Event Fliers, and Photos
Subscribe to the weekday Breakfast Links email FREE!
Get
updates straight to your inbox.