2 New Virginia State Police Troopers Hail from Prince William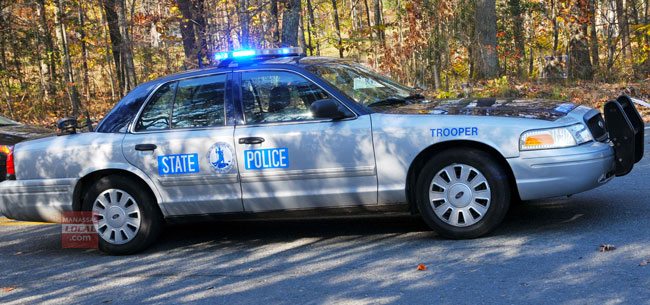 PRINCE WILLIAM COUNTY, Va. — There are two new Virginia State Police troopers who hail from Prince William County.
Alan Michael Wampler, of, Manassas, and Brandon David West, of Bristow, are recent graduates of the police agency's 120th Basic Session on Friday.
Both troopers will be posted in Prince William County.
More in a press release:
The graduating troopers come from every corner of the Commonwealth, as well as Michigan, New Jersey, New York, and Pennsylvania. Many in the class sought out the Virginia State Police because "I like doing a job I can be proud of," and "for the opportunity to join the search and recovery team, so I can use my love of diving to help others. "

Members of the 120th Basic Session are the first class to be re-introduced to the "Probate Phase." The probate phase, which allows recruits to train in the field prior to attending the Academy, was commonplace in the Department for all incoming trooper-trainees until the 1990s. For the 120th Basic School, the reinstatement of this phase, necessitated trainees complete two and half weeks of introductory training at the Academy before being assigned to a Field Training Officer (FTO). The probate trainees then spent anywhere from four to 12 weeks in the field riding with an FTO before returning to the Academy in June to receive formal, academic instruction and extensive, advanced field training on various subjects.

"By probating in the field first, we are enriching a trainee's perspective of the realistic demands of the law enforcement profession, while at the same time providing them with weeks of hands-on, valuable, work experience with a veteran trooper," said Colonel W. Steven Flaherty, Virginia State Police Superintendent. "This transition in advance of entering the Academy familiarizes a trainee with Department terminology, forms, and state code, as well as sharpens their work skills. It also increases retention rates within a class, as the trainee develops a core understanding of the unique demands associated with being a state trooper."

Selected from a pool of more than 1,100 applicants, the members of the 120th Basic Session began probating February 25, 2013, and continued with 30 weeks of academic, physical and practical training at the Academy June 24, 2013. In all, the new troopers have received 1,296 hours of classroom and field instruction encompassing more than 100 different subjects. Subjects include judicial procedures, juvenile and traffic law, firearms, self-defense, crowd control and first-aid, to name a few.
Post Your Email Notices, Press Releases, Event Fliers, and Photos
Subscribe to the weekday Breakfast Links email FREE!
Get
updates straight to your inbox.