Live Blog: 12th High School, School Pool Approved
 8:51 p.m. 12th high school approved 
The Prince William County School Board has awarded a $97.9 million contract to build the county's 12th high school on Va. 234. The new building will include a $10 million swimming and aquatics facility.
8:50 p.m. 'Are you lying to me, Dr. Walts?'
Chairman Milton Johns will vote for a school pool. But he said he will not vote for any more pools in any Prince William County Public School.
He then turned to Superintendent of Schools Dr. Steven Walts and asked him if any more school pools were planned.
"Dr. Walts, are there any more school pools planned?" asked Johns.
"There are no more school pools planned," replied Walts.
"Are you lying to me?" quipped Johns.
"No I'm not," said Walts.
Johns said more pools are needed in Prince William County, but he added the county government should foot the bill and build them.
He admitted that many who know him will be disappointed in his decision to support a school pool. He said he hopes the new pool operates 24 hours a day, seven day a week.
"If we could open our buildings 24/7, I would support that as well," said Johns.
He also called the pool the "ugliest issue" he has seen while serving on the School Board.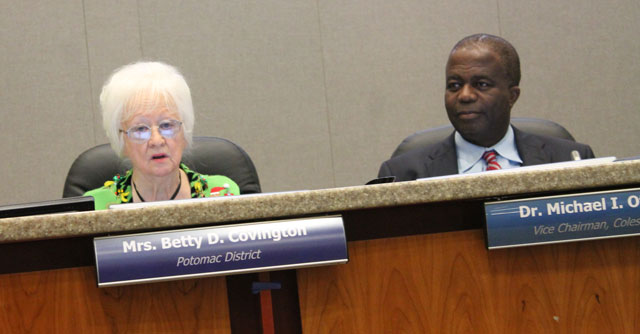 8:35 p.m. Swing vote Covington supports school pool
Potomac District School Board member Betty Covington said she has been described as the swing vote on the school pool discussion.
Covington said the pool would be used by all students in Prince William County Public Schools, and the 12th high school would be a specialty high school where swimming classes could be taught.
"What better exercise is there than swimming.. it's a life saving skill, and I can't think of a better skill to have" said Covington.
She added money to pay for the pool by for users on evenings and weekends. She also said Prince William County is one of the wealthiest counties in the U.S. and ought to be able to afford a swimming pool inside a school.
8:26 p.m. Tabling the school motion fails
A motion to table discussion of the 12th high school until next month fails 5-3.
8:25 p.m. Johns: Up or down?
Chairman Milton Johns said delaying the school vote would only increase the construction cost of the new school, set back instruction time by prolonging its opening date, and put uncertainty in contracting community and those who were relying on a decision tonight. He urged the Board to vote up or down.
8:20 p.m. Occoquan School Board member Lilly Jessie likes the swimming pool idea
Lilly Jessie supports the school pool as much as she does other athletics and academics.
"I grew up watching other white kids swim, I looked at the pool as an elite item, but as principal I said every kid can learn, and I never separated PE from instruction
When it comes to a motion to table building a school pool, she also offered this: "Maybe we should table discussion of having a football field, too."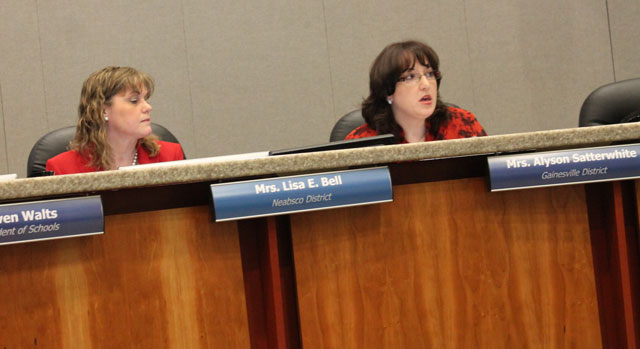 8:15 p.m. Satterwhite speaks
Gainesville School Board member Alyson Satterwhite says she's not against swimming, but says it's not the school division's role to provide a swimming facility to the county.
"The operating deficit for this pool will come from operating budget, and that's where we get money for classrooms and school teacher salaries," said Satterwhite.
After several joint meetings with the Prince William County Board of Supervisors and School Board, Satterwhite said a plan for the County Supervisors to build a pool at the school and for the school to maintain it never materialized.
"If the Board of County Supervisors wanted to build the pool at the site of the 12th high school, that is a partnership that we would have all liked to have been apart of, but they have other plans and that's their prerogative," she said.
8 p.m. School Board debates approval of school
A motion to approve the new school with the pool was put forward by Coles District School Board member Dr. Michael and seconded by Woodbridge member Loree Williams.
School Board members Gill Trenum of Brentsville, and Alyson Satterwhite of Gainesville, said they don't want to approve the school pool until after a School Board work session in January.
"The school has become more about the pool, it has become a symbol to a lot of people… it's about the process. I'm not happy about how its gone.. the first time I heard about the pool was from one of the [Prince William Board of County Supervisors] and I thought it was a joke," said Trenum. "I Heard from the rumor mill, and rumor mill was right. I feel like the Prince William County Board of Supervisors had more insight to the processes than we did."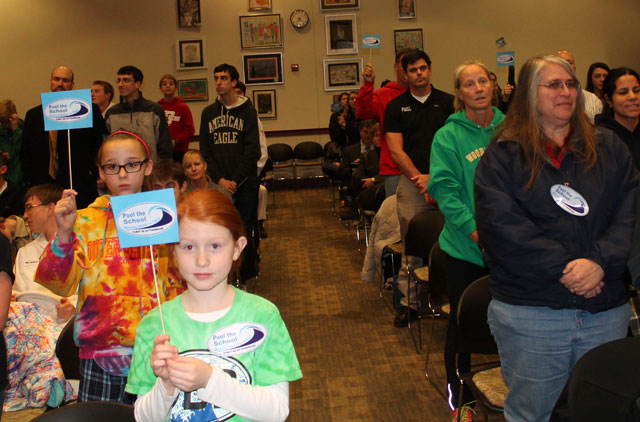 7:55 p.m.
Several residents came to the meeting tonight in support of the school pool. They wore stickers that stated "pool the school."
Students and parents voiced their support, telling school officials several public pools already in operation throughout the county are filled. They added students would benefit from learning how to swim and other life saving skills that could be taught at the aquatics facility to be included inside the school.
"When you come to a high school swim meet, you will see the one who sees an ovation is not the winner… it's the kid who jumps in to compete in the 500 meter freestyle and comes in dead last… because his teammates know he dared to jump in and compete and test his limits," said one parent.
7:45 p.m.
The Prince William County School Board is scheduled tonight to take a vote on the soon-to-be-built 12th high school.
The road to tonight's decision has been rife with debate on whether to include a $10 million swimming pool and aquatics facility at the school, that is to be located near at Va. 234 and Independence Drive, near Hoadly Road.
The discovery of graves at the site and their exhumation in November to make way for the new school tore apart the Prince William community. Many said the school division should have did more to research who the graves belong to – now believed to be the Lynn family of Prince William County whos ancestors date back to the turn of the 20th century – and tell the public about their findings. Others said building a new school that will house 2,200 students in a growing community is what is needed now.
Board supports reburial of graves at school site
This evening, following a public meeting on Monday, School Board Chairman Milton C. Johns said his Board supports a plan to reinter the remains at the school site, in a new location other than where they were found. It should take six to eight months to get the proper permits for the work, he added.
Post Your Email Notices, Press Releases, Event Fliers, and Photos
Subscribe to the weekday Breakfast Links email FREE!
Get
updates straight to your inbox.