Futrell Calls for More Voices in Shaping Area's Future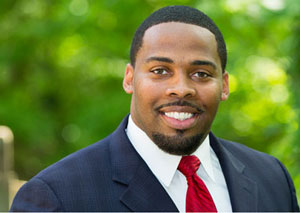 This Michael Futrell first time seeking political office and he hopes to unseat Republican incumbent Mark Dudenhefer on Election Day.
Futrell, a Democrat, seeks to represent the Virginia's 2nd House District which includes portions of eastern Prince William County to northern Stafford County. Dudenhefer was the first to represent the district when it was created in 2011 following the state's decennial redistricting processes.
Futurell says his leadership within the local Democratic Party, his work on the non-profit he founded "Make the Future," and his business experience as a pharmaceutical sales representative would make him a natural leader.
Transportation
A key issues in the 2nd District is transportation. Both Interstate 95 and U.S. 1 run directly through the heart of the district, and many of its residents rely on these two roads to get them to work, school, and to play each day.
Futrell has called for the expansion of Metro rail from Springfield to Woodbridge, which would allow for more cars to be taken off area streets, he said. Sidewalks are another key to his transportation vision: the area needs more of them, he said.
He's also eyeing more opportunities in public transportation to move more people around the entire district.
"There's not one bus that runs between Prince William and Stafford County, and that is one thing I will look into – how to move more people between these two rapidly developing areas," said Futrell.
Business and jobs
Much of his focus on transportation also says a lot about his policy on businesses. U.S. 1 must be improved in order to attract and sustain new businesses to the corridor.
While improvements are well underway and new shops are opening at places like Marumsco Plaza in Woodbridge, and U.S. 1 is being widened in two places in Woodbridge, he says business owners and community leaders need a stronger voice.
"We'll invite business owners and community leaders to a newly created district council to hear from them, and to determine the jobs of the future and what development is needed here. We want include everyone to make sure we are bringing the development to the area," he said.
Obamacare expansion 
When state legislators this year approved landmark transportation reform, with it came an planned expansion of Medicare in the state. Some conservatives, including Republican gubernatorial candidate and Attorney General Ken Cuccienlli have called for cutting back the Medicaid expansion.
Distancing himself from his opponent, Futrell supports it.
"This is a law that has already been passed and its something that we are going to pay for, so why not expand it," he said.
His opponent says Medicaid, and by extension the Affordable Healthcare Act (Obamacare) needs to be revamped, revised, and updated, and has called for a review of it before the program is expanded in the state.
Education
Also following the legislative session this year, Gov. Robert F. McDonnell signed into law a measure that gives a letter grade to schools – A through F – to rate their performance. Futrell is not a fan of this grading system.
"If you give the school an overall failing grade, it doesn't give them much encouragement to improve," he said.
Futrell spend a year as a school teacher in Ohio before moving to Virginia to become a pharmaceutical sales rep.
Candidate Profile
Candidate Name
Michael Futrell