Pumps Ordered by Phone from Bed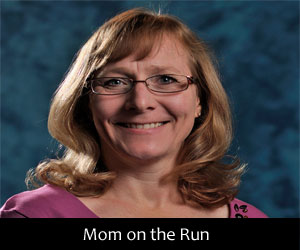 Mom on the Run: The Next Chapter
I have just lain down, ready for bed, when – darn it! I meant to go online and order black pumps today. I want the exact same as the fabulous gray shoes I just got, but in black. They are comfortable, and just the right height, and a good price, and I have worn my favorite black pumps so much (they go with everything!) that they are getting beat up, so it made sense to me to buy the gray ones, in black; a guaranteed winner.
But, darn it! My day is over. It's late. It's not urgent, of course, but I tend to forget little non-urgent to-do items until suddenly they become urgent. So I really think about it: I could get up, turn my computer on, and check the website.
Or … I have a thought. I sit up, reach over, and pick up my cell phone. OK, everyone else I know does everything on their smart phones. I have a smart phone. Can I … ?
I click the Google button at the top of my screen and type in, "dsw". The little bar crawls across the screen, and ta da! The DSW website is there on my phone!
So far, so good. There. A search box. I position my cursor and type in, "fergalicious jinx." I happen to know that's the brand and style of the fabulous gray pumps. It's a memorable name. And wow! Almost instantly, there on my screen, the shoe! But – really? Dang it. The Jinx only comes in gray and red? Boo.
Hmph. I sit for a minute and pout. Well, I'm sure there are some comfortable all-occasion black pumps on this website somewhere. Can I figure out how to search on this phone? I scroll down on the screen, look at the "people who looked at this shoe also looked at" section. Nah. Those are all gray.
I click the DSW home page button. Aha! A search feature! "Women", I click. "Pumps & Heels". Then "High Heel Pumps". Ah! Filters! Brand! I click "Fergalicious" – since I know that brand fits well – and Submit. Wow! I get a screen full of shoes! But there's so many. Can I … I go back to Filters: sure enough. Under "Color", I select the black box and Submit. And wow! Thirteen pair of black Fergalicious pumps!
Down I scroll through the thumbnail pictures. Don't like the first pair. The next picture is of boots. A pair of wedges, those are cute, but not what I need. A pair of ankle-high booties. Oh! What's this Sammi pump? I tap the picture. Hmm, that looks about right. I scroll farther down, click on Product Details. Sueded microfiber, almond toe (whatever that is; almond shape?), 3 ½" covered heel, $44.95. That's pretty reasonable, really. Since it's going to come to my house and I know it's going to fit.
"Add to bag," I click. I peck in my email address and password, and voila!, up pops my DSW discount dollars. No way! I've earned two $10 discounts. I type DOUBLEUP in the "offer or cert code" box (I remember that from when I ordered my gray Jinx two weeks ago) to get double points, and Apply. Just like that, my shipping charges disappear, too!
Check out takes about a minute. I have my credit card number memorized (from, um, regular online shopping; sorry, honey!) and pop it in. My billing and shipping addresses are already saved. "Complete purchase."
Within a minute, while I'm still staring at my phone in awe, I get an email – also on my phone – from DSW thanking me for my order and saying it will be shipped out within days.
I sit there in bed for a moment, sort of stunned. I can't believe I just did that! On my phone! In less than five minutes! Searched, filtered, chose, and purchased a pair of shoes! On my phone! Then – well, guess I can now, my day is done, my to-do list accomplished – I sort of shake my head, turn off my phone, click off my lamp, and go to sleep.
Mom on the Run columnist Lianne Wilkens lives in Manassas and is now exploring life as an empty nester. She has come a long way in learning how to use her phone.
Post Your Email Notices, Press Releases, Event Fliers, and Photos
Subscribe to the weekday Breakfast Links email FREE!
Get
updates straight to your inbox.