In Memoriam: Kenny Diaz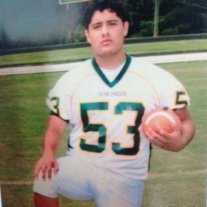 Kenny Diaz was born on April 25, 1995 in Fairfax, VA. Kenny walked into the loving arms of the Lord , on September 21, 2013 at the age of 18.
Kenny is survived by his parents of Bolivian descent Jose Diaz and Delma Merida, along with his younger sister Camila Diaz, numerous aunts, uncles, cousins, and friends. While living in Woodbridge, Virginia, Kenny attended St. Thomas Aquinas School, John Paul The Great, and Woodbridge Senior High School.
His interests included family, sports, friends, and video games, but his greatest passion of all time was football, he enjoyed playing the sport for school, coaching younger children and cheering for his beloved Washington Redskins year after year.
Kenny was known as a friendly, kind, and respectful young man, he will be greatly missed by everyone that knew him. He was the kind of young man that anyone would be proud to call son or friend. His funeral services will be held on Friday, September 27th, 2013, at 1:30 p.m. at Our Lady of Angels Catholic Church, 13752 Marys Way Woodbridge, VA. Followed by a procession to the burial site located in Dumfries, Virginia Cemetery.
Viewing will be from 2 p.m.to 4:00 p.m. and 5:00 p.m.to 9:00 p.m. on Thursday, September 26th, 2013, at Mountcastle Funeral Home.
Prayer: Lord, you have called our son, we pray for the Angels and Saints of God to present him to God the Most High.
Receive his soul and given him eternal rest, may your light shine upon him forever. We will miss Kenny dearly in our hearts but will be at peace knowing that you will embrace him and take him to Kingdom in the Heavens.
Parents Message to Kenny: Hijito mío el 21 de septiembre ha sido el día en que nos diste un adios pero tan doloroso que deja marcada toda mi vida, el vacio que queda dentro de mi nada ni nadie borrara !!! HIJO DE MI VIDA HIJO DE MI CORAZOON!! SI TAN SOLO DIOS TODO PODEROSO ME DIESE LA OPORTUNIDAD DE CAMBIAR LOS PAPELES !!! PAPITO LOS CAMBIOOOOO!!! MI GORDITOOO TE AMOOOOOO!!! Y TODAS MIS ORACIONES ESTAN DIRIGIDAS PARA TI !!!!! HIJITO Q DIOS TE TENGA EN SU SANTA GLORIA!!
Donations can be made to Kenny Diaz or Delma Merida (Mother) Capital One 1352912413 or call Mountcastle funeral home 13318 Occoquan, Rd. Woodbridge, VA 22191 703-494-2000.