State Trooper Injured in Motorcycle Crash on Busy Memorial Day Travel Weekend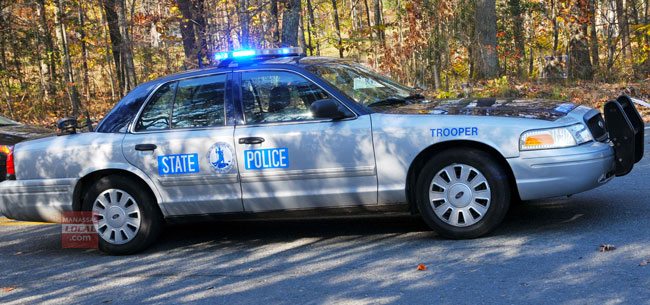 PRINCE WILLIAM COUNTY, Va. — The busy Memorial Day travel season has already claimed injury to a Virginia State Police Trooper patrolling in Prince William County.
Trooper R.D. Best was traveling on Va. 234 north on his police motorcycle when a Nissan Altima pulled into his path near Pinnacle Ridge Drive. The trooper was thrown from his bike after it collided with the car's front end, said state police spokeswoman Corinne Geller.
Best was wearing a helmet and was taken to Prince William Hospital in Manassas for treatment. Geller adds the trooper was not enroute to a call and was traveling the speed limit.
The driver of the Nissan, William B. Hash, 86, of Melbourne, Fla, was not injured but is charged with failure to yield the right of way, said Geller.
This crash follows the fatal police motorcycle crash of Prince William police officer Chris Yung. He was killed on New Year's Eve on Va. 28 in Bristow while responding to an emergency call.
Busy weekend on the roads
Last year on Memorial Day weekend 11 people lost their lives while traveling on Virginia roads. This year, police urge drivers to slow down, don't drink and drive, and buckle up as there will be increased "Click it or Ticket" enforcement on the roads through Monday.
"By not wearing your seat belt, you are taking a gamble with your life – so why take that risk?" said Colonel W. Steven Flaherty, Virginia State Police Superintendent in a press release. "Statistics have proven that wearing your seatbelt can help save your life or reduce your chance for injuries in a crash. It should be one of the first things you do when you get into a vehicle. Make the right choice, not just during a holiday weekend, but all year long and buckle up, watch your speed, and drive sober and distraction free."
Rolling Thunder coming to town
An estimated 795,000 people from the Washington area are expected to hit the road this weekend headed for the hills or the beach. But for the ones that stay behind, AAA Mid-Atlantic urges area drivers to be aware of 900,000 participants headed into town on motorcycles for the annual Rolling Thunder Rally. It'll travel along Interstate 95's HOV lanes to the Pentagon.
"In the Washington Metro area, motorcycle riders are among the most vulnerable of all road users," said John B. Townsend II, AAA Mid-Atlantic's Manager of Public and Government Affairs. "In fact, motorcyclists are about 39 times more likely than passenger car occupants to die in traffic crashes per vehicle mile traveled, according to NHTSA."
To help drivers get to where they're going to arrive faster, the Virginia Department of Transportation suspended all lane closures from noon today until noon Tuesday.
Post Your Email Notices, Press Releases, Event Fliers, and Photos
Subscribe to the weekday Breakfast Links email FREE!
Get
updates straight to your inbox.