60 Homeless in Manassas Fire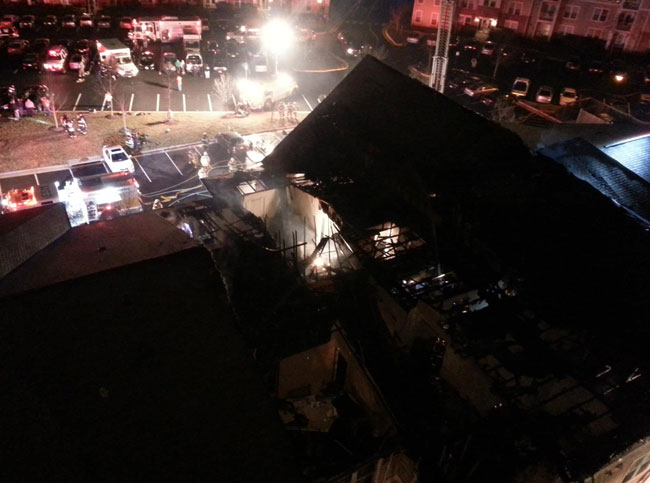 Update 2:45 p.m. 
At least 60 people are homeless following a fire at a Manassas-area apartment complex last night.
Prince William County fire officials said two-alarm fire that engulfed two apartment buildings on Lady Jane Loop off Sudley Manor Drive about 11 p.m. started in a third-floor apartment unit and quickly spread to an attic.
More from a press release:
The three story apartment buildings are comprised of 12 units each/24 units total between the two buildings. Of the 24 units, 20 were leased at the time of the fire displacing approximately 60 residents.

Bozzuto Property Management and Red Cross assisted with relocation of displaced residents to a local hotel.

Building Official's Office has declared both buildings unsafe and is posted as such.
One resident suffering smoke inhalation, and two firefighters suffering exhaustion were taken to a local hospital. Several other firefighters had to be pulled from the blaze after a portion of a roof collapsed. None of them were seriously injured.
1:40 a.m.
MANASSAS, Va. — Firefighters had to be pulled from a burning apartment building near Manassas late Monday night after a 2-alarm blaze broke out.
Fire and rescue crews from across Manassas and Prince William County were called to 11211 Lady Jane Loop in the Chatsworth Apartment complex off Sudley Manor Drive. Flames that are expected to have originated in one of the four apartments on the third floor of the building grew and eventually shot through the roof. The ceiling collapsed, firefighters inside called "mayday," and all of them were pulled to safety with the help of other fire crews on the scene, said Prince William fire and rescue Capt. James Paul.
While none of them were injured, but Paul said one female resident was taken to Prince William Hospital with symptoms of smoke inhalation, and another firefighter who was called to the scene was also taken to the same hospital for observation after complaining of exhaustion.
"With the firefighter transported, it's just a precaution," said Paul. "The work these guys do when their on the scene is strenuous to the body, so for the firefighter was transported for his safety."
After the flames were put out, Paul said at least 30 people were displaced by the blaze, and all are being cared for by the Red Cross. Fire marshal's don't yet know what caused the blaze but said at least 12 apartments will be condemned following the fire.
A portion of the roof of the building where the fire originated is missing.
Interactive Photo Gallery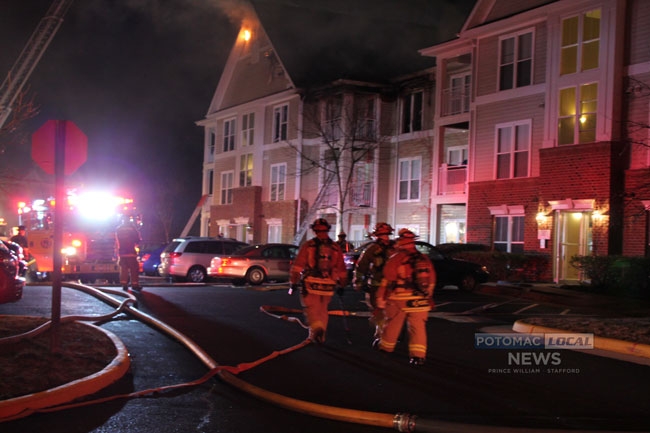 Picture 1 of 7
A two-alarm blaze broke out at the Chatsworth apartment complex off Sudley Manor Drive in Manassas late Monday night where several firefighters were rescued, one taken to a hospital, and a woman injured and also taken to a hospital. [Photo: Uriah Kiser / Potomac Local News]
Post Your Email Notices, Press Releases, Event Fliers, and Photos
The FREE email packed with local news
The FREE email packed with local news
The FREE email packed with local news
Sign Up