Milde Wants Action on Idle Aquia Town Center Project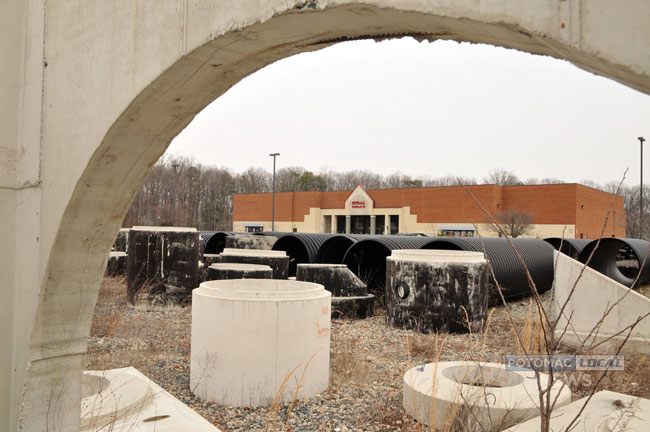 By KEITH WALKER
For Potomac Local News
NORTH STAFFORD, Va. — The big pile of rubble that has been sitting at Town Center at Aquia for six or seven years now is beginning to get on peoples' nerves.
Stafford County Supervisor Paul Milde III, R-Aquia, said he's been working all along with owner Ramco-Gershenson Properties in efforts to keep mixed-use development project on track, but nothing has worked.
Milde thinks maybe it's time for the county to break a little bad on the company and resort to imposing county ordinances and enforcing code violations.
"The residents of Aquia Harbour are not going to stand for looking at that any longer as they drive in and out," Milde said of the fenced property where weeds grow through the cracked blacktop of a vacant parking lot. "There's no excuse for the way Ramco-Gershenson has left that site. That needs to be corrected now."
Ramco-Gershenson's could not be reached for this story, but their website states that the company's primary business is "the ownership and management of multi-anchor shopping centers in strategic, quality of life markets throughout the Eastern, Midwestern and Central United States."
The company, based in Farmington Hills, Michigan, has developed property in Michigan, Florida, Ohio, Georgia, Missouri, Colorado, Wisconsin, Illinois, Indiana, New Jersey, Virginia, Maryland, and Tennessee.
According to county records, the Stafford County Board of Supervisors rezoned the property to Planned-Traditional Neighborhood Development so Ramco-Gershenson could build 750,000 square feet of commercial units, 287 small residential units and a new movie theater in a
The company completed some of the commercial development after the rezoning, but ultimately left a substantial portion of the property vacant.
Milde said the work stalled because of "issues with the economy" when the Great Recession hit.
"The economy just wouldn't support this type of development. Ever since about 2009, they've been saying, 'Look, we're almost there,'" he said.
Milde also said he's had 30 to 40 unproductive meetings with the company, its lenders and potential tenants since the project began.
"The latest story is a financing story where they're just a little bit shy on what the lenders will lend and what they need to move forward," Milde said.
Milde went on to say that the Board of Supervisors approved loaning the company money for improvements to roads, parking and sewer in exchange for future incremental tax increases.
"Some of it can come back and pay down local debt service on an infrastructure loan to the tune of several million dollars," Milde said
According to Milde, company representative have recently asked county officials if it could start development on the residential units.
Milde said he wouldn't support that.
"I do not want the apartments built separately," he said. "That's just not the deal that we made."
Milde said Ramco-Gershenson planned to model the development after Monument Place in Arlington and Oyster Point City Center in Newport News.
Milde said he doesn't know why the company can't proceed with the project which he thinks would be successful.
"Frankly, I'm baffled that they can't make the numbers come together on this," he said.
At any rate, Milde said he's finished with the delay.
"We think we've been more than patient, he said. "It's my intention, if I don't see movement very quickly on this, in the right direction, to bring something to the board."
Post Your Email Notices, Press Releases, Event Fliers, and Photos
The FREE email packed with local news
The FREE email packed with local news
The FREE email packed with local news
Sign Up