Marlin & Rays Closes after Just 8 Months in Business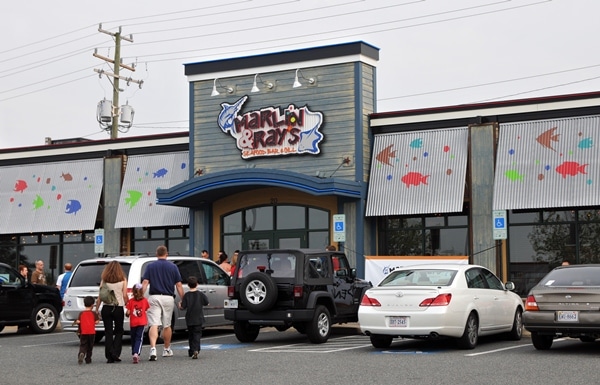 11:30 a.m. Thursday 
Ruby Tuesday CEO and President James "JJ" Buettgen said he's proud lead the restaurant chain, but times are tough and that's why the company decided to shed all 13 Marlin and Rays seafood restaurants.
Employees got word last night the eateries were closing. Two former Ruby Tuesday restaurants – one in North Stafford and the other in Manassas – are closed because of the decision, and it's unclear at this time what will happen with the properties.
Overall, the company lost $15 million on the decision to changeover those restaurants and others like them from the American fare served at Ruby Tuesday to the seafood served at Marlin and Rays. Other restaurants that were apart of the Ruby Tuesday expansion announced last year are also being jettisoned, including a Wok Hay restaurant and two Lime Fresh restaurants. A buyer for a fourth brand, Truffles Grill, is being sought.
"As we make these difficult decisions, we want to let the team members of these closed restaurants know that we appreciate their passion and commitment and we are working to ensure affected by these planned closures are given opportunities at other Ruby Tuesday or Lime Fresh restaurants," said Buettgen in a press statement.
Ruby Tuesday will, for now, put plans for expansion aside and instead focus on growing same-store sales, according to a press release.
8:30 p.m. Wednesday 
NORTH STAFFORD, Va. — The final ship has come in for a chain of seafood restaurants in the area.
Marlin and Rays closed its doors this evening at it's location in North Stafford. Employees came to the locally-owned Mainstreet Bar and Grill across from the chain restaurant said they were called into work at 4:15 p.m. Wednesday and were told the restaurant was closing for good.
A spokesperson for the restaurant chain could not immediately be reached.
A second source told Potomac Local News all 13 Marlin and Rays restaurants in Virginia, Maryland, North Carolina, Pennsylvania, Ohio, Georgia, and Tennessee will close their doors.
Many Marlin and Rays locations were converted from Ruby Tuesday restaurants that specialize in American dining fare. Many Marlin and Rays employees could opt to transfer to Ruby Tuesday locations if positions are available, according to our source.
Marlin and Rays in North Stafford was open just eight months before closing its doors. Its closure comes as another area restaurant, The Otter House in Fredericksburg, announced it will close this weekend.
The North Stafford location was one of two Marlin and Rays restaurants in Virginia. The second is in the Manassas area on Sudley Road. 
Post Your Email Notices, Press Releases, Event Fliers, and Photos
The FREE email packed with local news
The FREE email packed with local news
The FREE email packed with local news
Sign Up