New Transit Buses Arrive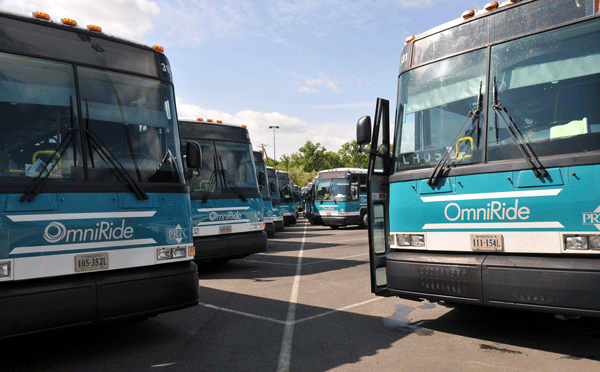 WOODBRIDGE, Va. — Bus commuters in Prince William County will now have new seats on 13 new buses.
Providers of OmniRide and OmniLink, the Potomac and Rappahannock Transportation Commission said the new buses have been delivered to their headquarters in Woodbridge. They will not be used to increase service, but to replace older buses that are rapidly aging.
PRTC Director Alfred Harf said PRTC had one of the oldest bus fleets in Virginia 20 years ago, but now it has one of the newest and youngest thanks to state funding and federal funding from the U.S. Department of Transportation.
More in a press release:
Each of the new Gillig brand buses is 40-feet long with a seating capacity of 43, featuring low floors for easier boarding and disembarking. They will be used for commuter bus services.

The buses were purchased through the USDOT's Transportation Investment Generating Economic Recovery (TIGER) grants program, which is part of the Federal American Recovery and Reinvestment Act.

In May 2009, the USDOT announced that it had $1.5 billion in discretionary TIGER funding and would accept applications for projects that promised a significant impact on the nation, a metropolitan area or a region. In late 2009, the National Capital Region Transportation Planning Board (TPB) applied for $266 million for multiple projects in the region including $10 million for PRTC projects. In February 2010, the TPB was informed that its application was partially approved and that 100% of the PRTC proposals would be funded.

More than half of PRTC's funding, $5.7 million, was used to purchase the 13 buses. With the remaining funds, PRTC has purchased security cameras for 15 commuter buses and a Computer Aided Dispatch / Automated Vehicle Locator (CAD/AVL) system for the entire bus fleet. The CAD/AVL system, which will allow passengers to receive real-time bus information, is expected to be complete in 2014.
PRTC contracts with Ohio-based First Transit, Inc. to operate and maintain their bus fleet.
Post Your Email Notices, Press Releases, Event Fliers, and Photos
The FREE email packed with local news
The FREE email packed with local news
The FREE email packed with local news
Sign Up