Police, Ex-Girlfriend Target of Pipe Bombs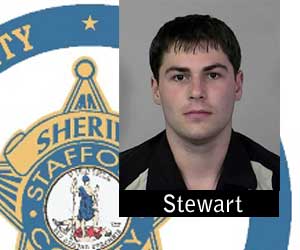 By URIAH KISER
STAFFORD, Va. — More than 24 hours after three homes were bombed, authorities described a suspect who they say is an armed and dangerous threat to society.
Laurence Alan Stewart, II, 25, faces multiple charges in connection to a of series pipe bombings at three homes early Monday.
Those homes belonged to a Stafford County Sheriff's Detective, a sheriff's deputy, and Stewart's 23-year-old ex-girlfriend – all whom are believed to be targets in these attacks.
No one was injured but each home sustained damage.
The first bombing took place at 4 a.m. in the 3100 block of Normandy Avenue in Fredericksburg. The force of the bomb damaged three rooms and blew off the house's roof, but police said a woman and a dog that were inside the house made it out unscathed.
The second two bombings occurred at homes in Stafford County's Kings Grant subdivision in Hartwood  and Country Ridge neighborhood in North Stafford at 4:33 a.m. and 5:33 a.m., respectively.
Authorities say the bombs were thrown at each of the houses, all of which were occupied — at least one of them with children  — when the bombs exploded. In the third bombing on Vie De Rosa Drive in North Stafford, the explosion rattled residents. 
In the first incident on Normandy Avenue in Fredericksburg, it appears Stewart did not know his intended target no longer lived at the address.
But Investigators said they still have enough evidence to charge Stewart with two counts of attempted murder of a law enforcement officer. he also faces a stack additional attempted murder and arson charges. 
"We believe this person is extremely dangerous. We know that he is armed and that he is carrying explosive with him. We know he has demonstrated he is capable of attempting to commit murder or kill others, and we have no reason to believe he is going to stop," said Stafford County Sheriff Charles E. Jett.
Criminal past
Stewart is already wanted in two separate incidents in Stafford County from this past summer. Authorities said he flashed shoppers at the Stafford Marketplace on Va. 610 once in July and then again in August. The sheriff's department released that information on Oct. 10.
Jett added Stewart is wanted in a domestic violence case involving his 23-year-old ex-girlfriend where he violated a protective order.
No fixed address
There was no address provided on any of Stewart's wanted posters. That's because authorities said he doesn't have one.
He attended school at Temple University, and later took law school classes in North Carolina. It was his ex-girlfriend, whom he met while in school, that drew him to Stafford County, said Jett.
Because of the out-of-state ties, more than 50 ATF agents in Virginia, Pennsylvania, and other states have joined in the search.
"ATF takes any crime targeting law enforcement very seriously. ATF will use every federal resource available to bring this dangerous individual to justice and take him off our streets," said special agent in charge of Washington Field Division Richard Marianos.
Authorities did not release the names of the law enforcement officers who were targeted, and did not say who which of the two homes bombed in Stafford County belonged.
Fredericksburg, Stafford, and federal authorities are all looking for Stewart. Anyone with information is encouraged to contact Stafford County Crime Solvers.
Post Your Email Notices, Press Releases, Event Fliers, and Photos
Subscribe to the weekday Breakfast Links email FREE!
Get
updates straight to your inbox.