Area Conditions to Worsen Sunday Night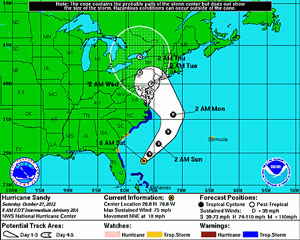 Sandy is on again, off again as the massive tropical cyclone is once again upgraded to a hurricane. Showing signs of weakening at 5 a.m. Saturday, by 8 a.m. Hurricane Sandy was once again a category one storm 335 miles southeast of Charleston, S.C. with sustained 75 mph winds.
As the storm is expected to pick up speed and make its way closer to Virginia and the Mid-Atlantic states, it's also expected to bring a storm surge of two to four feet to the lower Chesapeake Bay, heavy rain between four and 12 inches in some spots, and high wind.
Conditions in the Potomac Communities are expected to start downhill Sunday night as rain moves in and wind picks up. Wind and rain is expected to pick up Monday as Sandy moves over the area.
As of 9 a.m., there were no watches or warnings for the Potomac Communities.
Cold air will filter into the region following the storm. The high temperature forecast for the Potomac Communities on  Tuesday is 48 degrees. 
Schools
Public schools in Prince William and Stafford counties have told parents, students, faculty and staff to monitor their respective school divisions websites for closure information. No cancelations for either institution have been posted yet.
Utilities prepare
Power crews Dominion Virginia Power, NOVEC, and crews from Manassas have all said they are monitoring the storm. In Manassas, there is a focus on monitoring Lake Manassas' levels to prevent flooding as well as clear storm drains of debris.
The city is fortunate to have 80 percent of their power lines underground as major power outages are forecast for the region. The city issued a statement late Friday afternoon:
——-
The Manassas City Police Department has canceled all training activities for Monday and Tuesday. This will allow for more officers on the street to assist residents. The City of Manassas Fire & Rescue Department Emergency Management staff will be monitoring the storm throughout the weekend.
Fire & Rescue personnel will be checking equipment and preparing for extended operations. Prince William County Department of Fire & Rescue will have swift water rescue response boats and equipment staffed and available to assist the City of Manassas and the region should they be needed.
——
Stafford County fire and rescue officials also urged residents to also closely monitor the storm. 
Supplies
Lines at the grocery store on Friday afternoon were beginning to back up as shoppers gathered supplies.
Batteries, non-perishable foods, and water were just some of the items on shoppers' lists. It's recommended to freeze water in prior to the storm so it will be cold in the event power goes out. Officials also urged residents to have a NOAA weather radio in the event of a power loss or loss of cell phone communications, as was the case during June's Derecho storm.
Post Your Email Notices, Press Releases, Event Fliers, and Photos
The FREE email packed with local news
The FREE email packed with local news
The FREE email packed with local news
Sign Up
Dale City Local
,
Dumfries Local
,
Fort Belvoir
,
Lake Ridge
,
Lorton
,
Manassas Local
,
Occoquan Local
,
Quantico
,
Stafford
,
Woodbridge Local
,
Prince William