Girl Told Father about Slaying Mother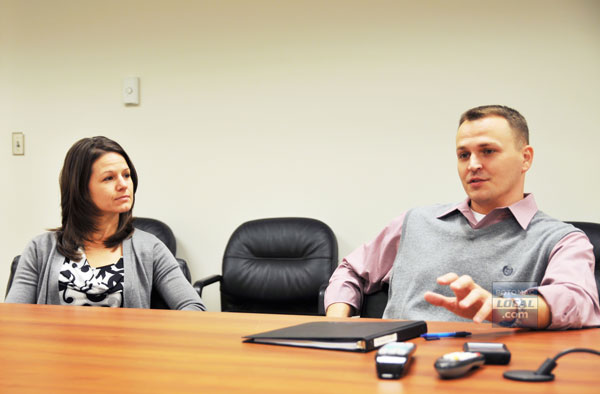 By URIAH KISER
STAFFORD, Va. — Ashleigh Dye was cold, articulate, and showed little remorse.
That's how detectives described the then 17-year-old girl who had just shot her mother in the face and then stabbed her multiple times. It was a premeditated crime that led to the death of 62-year-old Brenda Dye.
Now investigators are talking about the efforts that went into solving the crime and getting their suspect convicted.
The goal was to get the mother out of the way so Ashleigh and her boyfriend of four months, Eddie Chewning, 18, could be together.
Through text messages, Dye conspired with Chewing on how and when they would kill her. Dye carried out the murder, and it was these messages, a series of abnormalities at the crime scene, and a confession that  ultimately landed Dye in prison.
Following the murder, Stafford County Detective Chris Cameron forced Ashleigh to admit to her grieving father what she had done.
"I made her tell him. Death notification is one of the toughest things we do. To go to a loved one and say your brother, sister or mother is dead, and to make more intense tell them it wasn't natural it was the result of a homicide… I told her … 'I'm not doing it this time, you're doing it,'" said Cameron.
Dye had confessed to Cameron during her second interview with police. She told them about the text messages she exchanged with to Chewing on the day of the murder which focused on the crime she was about to commit. It would also come out later in the investigation that Dye left home after she killed her mother, went to a McDonald's restaurant for lunch, and then went to work like nothing had happened.
Diaries of interest
Long before the incriminating text messages were found, something was off about the crime scene itself. Dye shot and killed her mother inside of the family's home in Stafford County in July 2011. Detectives arrived to the home to find Brenda Dye's body, but they also found the crime scene had been staged to look like a robbery.
To boot, valuables like jewelry, credit cards, and prescription medication still lie on counters. If this had been a robbery gone wrong, rooms would've have been tossed but that wasn't the case.
The murder weapon, a 12-gauge shot gun, was found with its safety switch on. Police knew Ashleigh was an avid hunter.
"Only people who are trained to shoot will take the time to put the weapon on safety and put it down," said Cameron.
Detective Michelle Gibbons also worked the crime scene and found a series of suspicious diary entries in Ashleigh's journal. It was the first time Ashleigh was thought to be a person of interest in the case.
After learning of the text messages, Gibbons quickly contacted Ashleigh's cell phone provider and asked the company to store the messages on a computer so she could obtain them. Since Ashleigh had already deleted the messages from her phone, police knew they had up to three days to get the texts before they're automatically deleted from company records.
What went wrong?
If Ashleigh hadn't pulled the trigger, in just a few short months she would've been 18-years-old and could have left home to live with Chewing, detectives said.
Brenda Dye didn't appear to be the biggest fan of her daughter's boyfriend. Through her investigation, Gibbons learned Brenda Dye didn't like the fact Chewing had fathered a child at a very young age with another female.
"Ashleigh was a good student, she was involved in things, she had friends, but once he came into the picture she was pushing that all aside," said Gibbons.
But Ashleigh's father took in Chewing and gave him a job on a masonry contract he had been working on. Chewing was with Ashleigh's father the day of the murder.
After work, a husband came home to find his wife of more than 40 years dead.
Mindset to investigate
Ashleigh Dye is now serving 48 years in prison for her crime. She leaves behind a father and three siblings.
Eddie Chewing was also found guilty as an accessory to murder and is still awaiting sentencing.
While this crime scene was grisly, detectives who work these types of cases must be able to move forward and begin their search for the truth. That means leaving nothing up to chance, avoiding jumping to conclusions, and keeping their eyes and ears open.
"When you get to any scene you always treat it as the worst crime possible and you rule things out as you investigate. If you get locked into one theory you get a tendency to try and prove that theory and you'll miss details about the case that are blatantly obvious," said Detective Chris Cameron.
He and Detective Michelle Gibbons work in the Stafford County Sheriff's Office Criminal Investigation Division. Made up of 30 professionals, this division handles violent crime cases, domestic and child abuse cases, computer forensics, as well as burglary, theft, and fraud incidents.
Post Your Email Notices, Press Releases, Event Fliers, and Photos
Subscribe to the weekday Breakfast Links email FREE!
Get
updates straight to your inbox.