Major Storm Headed to Potomac Communities?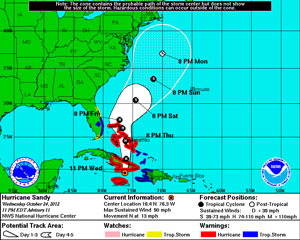 Talk of high winds, heavy rains, and a potentially history-making storm for our region abound among those in the local weather in-crowd.
Hurricane Sandy, a category one storm that bore down on Jamaica Wednesday night, could impact the U.S. east coast as early as Friday. The storm, albeit most likely downgraded to a tropical storm by the time it gets here, could impact the Mid-Atlantic coast (Delaware, Maryland, and Virginia) by Monday at the latest, according to the National Weather Service.
While the weather service shows a storm track that takes Sandy out to sea, other models illustrated by the Cliff Mass Weather Blog show the storm moving ever closer to Virginia's coastline to points to the Northeast. The source also details differences between forecasts from the American model and the more reliable European forecast model, which shows a powerful wind field that could sweep across our area Sunday into Monday.
So, will be this be a hair-raising storm like this summer's Derecho that brought widespread power outages, or will it will eventually move out to sea?
Weather service models show Sandy will impact the Florida coastline sometime Friday.
Post Your Email Notices, Press Releases, Event Fliers, and Photos
The FREE email packed with local news
The FREE email packed with local news
The FREE email packed with local news
Sign Up