Stafford Replacing Vehicle Decals, Office Signs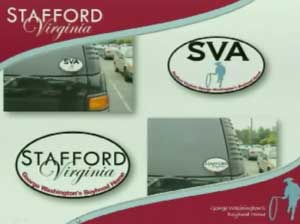 STAFFORD, Va. — Stafford is working to improve its image one vehicle at a time.
In the coming months the district will change the logos placed on the side of county vehicles from Stafford's official seal to an image more reflective of the county's overall branding.
The new door panel logos will include the "Stafford County" text in a design seen on marketing materials, the county's government and economic development websites, and on water towers. The changes are planned in advance of a coming celebration to mark the 350th anniversary of the Stafford County's founding.
"This establishes a strong identify for us and helps people recognize that this logo and our image represents Stafford County, Virginia – George Washington's boyhood home. We hope that our brand motives businesses to come here and be part of our great community and also, as our 350th anniversary approaches, we hope that our brand creates excitement about our celebration and inspire people to take part in it," Stafford County Director of Communications Cathy Vollbrecht.
It's not clear how much it will cost to changeover all of the vehicle decals, and county staff is working on a means to fund the replacements.
New signs and door markers featuring the uniformed branding will also be installed inside the county government center. Vollbrecht said the new signs will help residents better locate individual county offices and services as well as help fire and rescue crews better locate staff in the case of an emergency.
Post Your Email Notices, Press Releases, Event Fliers, and Photos
Subscribe to the weekday Breakfast Links email FREE!
Get
updates straight to your inbox.