Ryan Rallies with Reeves, Wittman and Bolling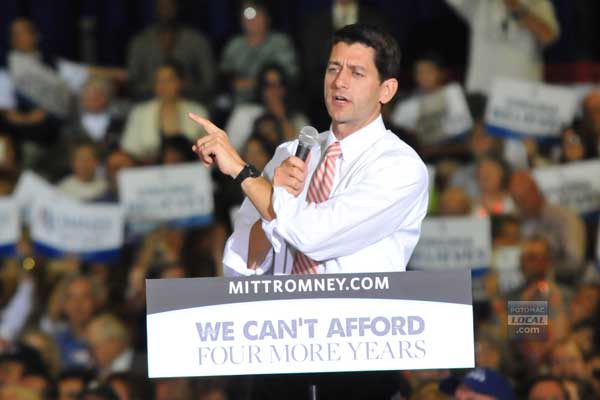 By KJ MUSHUNG
FREDERICKSBURG, Va – Republican vice presidential candidate Paul Ryan rallied supporters and tried to sway undecideds in Fredericksburg on Tuesday.
Approximately 3,000 people attended the event, which was held at the Fredericksburg Expo Center.
Vendors sold various Romney-Ryan election gear outside while concessions like hot dogs and potato chips were sold inside – a change from other political rallies, which usually don't have any food on hand. The prevailing belief is that food could be thrown at speakers by anyone who disagreed with the candidate or who wanted to disrupt the event.
Country music singer Collin Raye entertained the crowd while people waited for the rally to begin a couple of hours after the doors opened.
The program began with an introduction from State Sen. Bryce Reeves, who could be seen working the room after the rally.
Del. Mark Cole led the Pledge of Allegiance and was followed by Del. Bobby Orrock, who led the invocation.
Lt. Gov. Bill Bolling thanked the audience for all they're doing to elect Mitt Romney. Then Rep. Rob Wittman (R-1st)gave a rousing speech that got the crowd animated.
"As Virginia goes, so goes the nation," said Wittman to many cheers. "The path to prosperity is by first balancing that federal budget."
Wittman told the attendees that Ryan has been
in the Fredericksburg area before to hunt. "He's… a good friend of Fredericksburg."
Ryan then took the stage and declared that this is no ordinary four-year election. "It doesn't matter which generation you are coming from, this is the most important election in your generation."
Ryan called the current economic growth "anemic." He pointed to the debt clock on the wall that showed America's deficit as it's increasing, then pointed to a child and said, "Take a look at that debt clock over there. Look at this little guy on his dad's shoulders. And look at what he is getting."
He said that "hope and change" have become "attack, defend and blame" and criticized Obama for not doing what he pledged to do as president, citing a laundry list of issues such as cutting the deficit and lowering energy prices.
"We have to tackle this country's problems before they tackle us," declared Ryan.
After the rally, Wittman told PotomacLocal.com that it's critical that
people hear first hand Ryan's vision and understand what he and Romney have in mind for the nation.
"There's so much noise out there. There's so much back-and-forth. I think for most to come out and hear it from somebody, it's much more than a political advertisement. It's more about understanding what [Ryan] stands for," the congressman said.
Rally-goer Rick Kiper came because he thinks it's important for candidates to see that they have a lot of support at the rally the way a minister does when the pews are filled at church. He took off of work early and drove from Stafford with his wife, Judy, and 17-month-old son, David. It was his first political rally.
Ryan's running mate, Mitt Romney, appeared in Chesapeake and Leesburg, Va., on Wednesday.
Post Your Email Notices, Press Releases, Event Fliers, and Photos
Subscribe to the weekday Breakfast Links email FREE!
Get
updates straight to your inbox.