Mud Flies as Stafford Considers At-Large Seat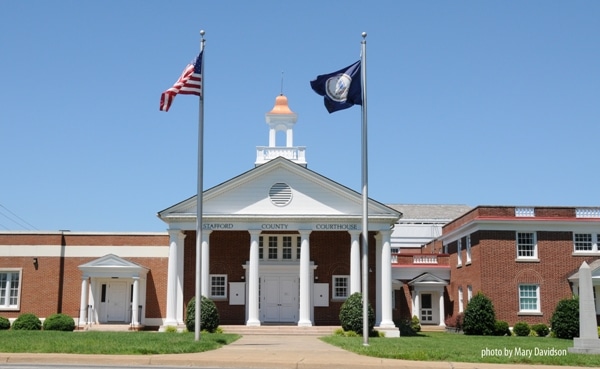 By URIAH KISER
STAFFORD, Va. — In what was a contentious and, at times, nasty exchange, Stafford officials learned why some think it's a bad idea for their government to mirror Prince William County's.
Stafford's "At-large seven" all-volunteer committee presented their findings to the Stafford County Board of Supervisors Tuesday night. Their job was to evaluate nearby counties like Prince William and Loudoun who have an at-large seat on their county Board of Supervisors.
The boards are charged with governing county departments and services, setting the county's tax rate, and approving an overall budget.
Currently, Stafford County has a seven-member Board of Supervisors with a Chairman appointed by fellow Board members. The Chariman does not serve at large.
Sitting supervisors Paul Milde and Cord Sterling are calling for a change and want voters to decide through a ballot referendum if they want to elect the Board's Chairman At-large.
The committee's take: don't fix what's not broken.
"We found no compelling data to support a public referendum of changing the form of government to permit an At-large Chairman…" former Stafford Board Chairman Linda Mussleman said.
Mussleman's committee said the public doesn't want the change, and it questioned its need as county revenues are up in a down economy.
Mussleman chaired the Stafford Board of Supervisors in the 1990s. Stafford had an At-large member (not a Chairman) on the Board from 1986 until 2001.
Up to a vote
Aquia District Supervisor Paul Milde has pushed for the creation of an elected At-large Chairman of the Board all year. He argues someone in that position would better serve as an overall ambassador for Stafford County and it's residents. He said 6,000 signatures collected from voters four years ago in support of a ballot referendum is why he's pushing for the change.
"In my experience, very few – if any – people affix their signatures to something they don't understand or with which they disagree. Yet, the signatures of thousands of citizens are discounted and dismissed by this Board, primarily because they don't want to risk putting this decision to the people," said Milde.
It's not clear how much a ballot referendum would cost taxpayers and, if voters approved a change, Virginia's General Assembly in Richmond must endorse it.
Garrisonville District Supervisor Ty Schieber opposed the change prior to the founding of the "At-large seven" committee and upheld his position Tuesday night.
"I keep going back to my gut reaction I had when the problem was first brought to me: what problem are we trying to solve?"
The Board moved to take up the issue once more on Nov. 20. That's when Griffis-Widewater District Supervisor Jack Cavalier is expected to return to his seat on the Board after a stay in a hospital after being struck by a truck last month on Interstate 95.
Down and dirty
Seven Stafford County residents – including Commissioner of the Revenue Scott Mayausky – volunteered to serve on the At-large Chairman Committee. But after allegations that the group formed with a preconceived notion to rule against a ballot referendum, and claims that two committee members failed to actively participate in a series of committee meetings, names were named and leaders got angry.
"I think it's reprehensible that Board members are here casting dispersion on people who voluntarily served on the committee…I wasn't going to mention names but since they've been brought up let's talk about them," said Hartwood District Supervisor Gary Snellings.
Supervisors read the names of committee members Skip Causey and Gordon Howard of the Griffs-Widewater and Rockhill districts, respectively. Both were said to not have participated for different reasons. Supervisors said Causey was not made aware of the meetings and Howard attended one meeting but never returned.
"I'm extremely upset and I would be very surprised I asked someone to serve on a committee and, after seeing this, they agreed to do it," added Snellings.
What the committee found
When forming their report, Stafford's "At-large seven" looked at six counties in Virginia to compare and contrast forms of government: Chesterfield, Albemarle, Loudoun, Henrico, Prince William, and Stafford. One eye-popping statistic, according to committee member Scott Mayausky, is that each county reviewed spends more money per capita than Stafford does. Prince William County spends 17 percent more, and Loudoun spends 79 percent more, according to the committee report.
Counties that spend more have a higher appropriated budget, and a population larger than Stafford's 129,000 residents. Prince William has 400,000, and Loudoun has 330,000 residents.
The counties that were reviewed were chosen because their form of governments differ from those of Stafford County.
In the event Stafford does create an At-large Supervisor, the committee urged officials to adopt a system Loudoun County uses where the At-large member does not have a regular vote but can step in to break a tie. That's the reason an At-large member was created in Stafford in 1986 but ultimately was done away with in 2001 because of redistricting, according to the committee report.
In the end, to get a referendum on the ballot, the Stafford County Board of Supervisors must pass a resolution to request a referendum, or petitions with the names of at least 10 percent of the county's population must be filed with the Circuit Court to request a referendum.
Stafford vs. Prince William
Voters in Stafford elect seven magisterial district supervisors to represent the interests of their neighborhoods. One of the seven is appointed by the Board as the Chairman – a job that now belongs to Falmouth District Supervisor Susan Stimpson.
In Prince William County which has an eight-member Board on a "County Executive" form of government, Prince William Chairman Corey Stewart fills the Chairman role.
If a Board becomes split on an issue, some like Stewart say it's better to have a five – three vote than a four – three vote. He noted it's harder to persuade two Board members to vote in favor of motion, and that a 5 – 3 vote is harder to overturn later on.
"Tie votes do, of course, occur on the Prince William Board. In such instance, a motion fails. Because of this, it's more critical on important votes… to create a broader consensus to obtain a necessary five votes to pass a motion," stated Stewart in a letter read by Paul Milde on Tuesday night.
Stafford's "Traditional" form of government is Virginia's oldest, and it allows voters to choose the county's five constitutional officers; Sheriff, Clerk of the Circuit Court, Treasurer, Commissioner of the Revenue, and Commonwealth Attorney. Clerk to the Board and County Executive (Anthony Romanello) and County Attorney (Charles Shumate) are appointed by the Board of Supervisors.
Post Your Email Notices, Press Releases, Event Fliers, and Photos
Subscribe to the weekday Breakfast Links email FREE!
Get
updates straight to your inbox.