Investors Get Earful on Expanding U.S. 1 Corridor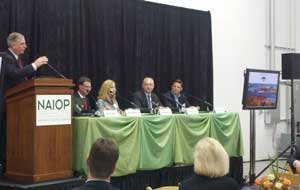 POTOMAC COMMUNITIES BUSINESS 
WOODBRIDGE, Va. — In what was Woodbridge's version of a loft party, hungry officials, community planners, economic development bigwigs, and real estate developers gathered for a buffet lunch.
When it was over they left their tables armed with more information about eastern Prince William County's U.S. 1 / Interstate 95 corridor; home to new businesses and redevelopment efforts happening in an area long known for its traffic congestion.
With just six months on the job, Prince William Department of Economic Development Jeffery Kaczmarek aimed to sell potential investors on the county's geographical position nestled near three major U.S. airports as a highlight for businesses.
He also described the county as a workforce center with the average 30-minute commute time for those who live in the county, comparing it to the regional average of one and a half hours.
"We think that it is such a great business proposition we have a small map on the back of our business cards to highlight that point," said Kaczmarek.
Transportation was a key topic at this $60-per plate panel discussion hosted by NAIOP Northern Virginia (The Commercial Real Estate Development Association). It was held inside an unfinished unit at a business center on Noble Pond Way in Woodbridge which gave the event's location its loft-like feel.
Kaczmarkek touted eastern Prince William's easy access to the Virginia Railway Express commuter rail system, but noted the area would benefit from an in-bound train that brought workers from Maryland and Washington, D.C. in to Prince William. Right now, 66 percent of Prince William residents leave the county and work elsewhere.
Prince William would need far many more commercial and private sector jobs to facilitate an inbound train, he admitted.
Kaczmarek forecasted 2014 as the year many companies get off the sidelines and decide to invest and grow.
"There's just too much pent-up demand out there right now," he said.
Because Washington, D.C.'s regional marketplace is filled with an educated and tech-savvy workforce, he also encouraged entrepreneurs to form companies that don't rely on servicing the federal government.
Though it's trying shed its reputation of being a sleepy suburb of Washington, D.C., a report earlier this year noted the county's top employers as Walmart, Target, Wegmans grocery store, and Minnieland Daycare centers.
Post Your Email Notices, Press Releases, Event Fliers, and Photos
The FREE email packed with local news
The FREE email packed with local news
The FREE email packed with local news
Sign Up