New Rule Ensures Seized Lands Used for Public Good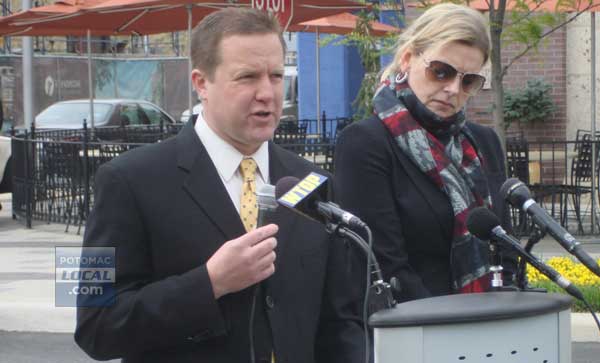 WOODBRIDGE, Va. — A problem in Norfolk has found a solution in Prince William County.
The county's Board of Supervisors on Tuesday passed an ordinance that will guide leaders on how eminent domain – the taking of private lands for a public purposes — is used.
Board Chairman Corey Stewart is the driving force behind the new ordinance that mandates Prince William County Government now must only take private property for uses like public roads, utilities, or buildings that "benefit the public as a whole."
A similar proposed revision to the Virginia Constitution called the Virginia Property Rights Amendment will come before voters on Election Day Nov. 6. But, if voters do not support it statewide, Tuesday's Board action ensures the amendment will be law in Prince William.
Stewart, who is also running for Virginia Lt. Governor, added the county is the largest jurisdiction in the state to adopt such a resolution, and acknowledged Fairfax County leaders and the Virginia Association of Counties does not support the measure.
"It's certainly true that this Board has never abused its eminent domain authority by taking from one private land owner and given it to another in the name of economic development, however, one could argue that's exactly what's happening in the City of Norfolk," said Stewart.
He's referring to the owners of the 78-year-old Central Radio Company in Norfolk, which is being muscled out by city leaders who want to condemn the business and give the land on which it sits to Old Dominion University for future development.
So far, a case like this hasn't appeared in Prince William County, and Transportation Director Thomas Blaser said less than one percent of eminent domain cases in Prince William have ended up in litigation.
"We have done a certificate of take literally hundreds of times…If the public purpose [of a project] was questioned, I think everybody would be more cautious about starting a project than just doing what we call a 'quick take' if we thought the ramifications would bigger than the risk was worth," said Blaser.
Prince William has long funded construction of their own roads, including the widening of U.S. 1 in Triangle and the construction of Prince William Parkway.
Woodbridge District Supervisor Frank Principi was the lone dissenter on the Board Tuesday and said this decision could have a "chilling effect" on the county's efforts to build new roads, and on future economic development.
"We should not be fixing what's not broken. We have voted for years now…in favor of these road building projects…and I don't know why we have to change our position today," said Principi.
The issue may come down to a battle between the federal government and the states. According to Tuesday's resolution, the Supreme Court upheld a decision to allow local governments to seize privately-owned land, homes, or small businesses and transfer them to a new owner for the uses of economic development.
Post Your Email Notices, Press Releases, Event Fliers, and Photos
Subscribe to the weekday Breakfast Links email FREE!
Get
updates straight to your inbox.